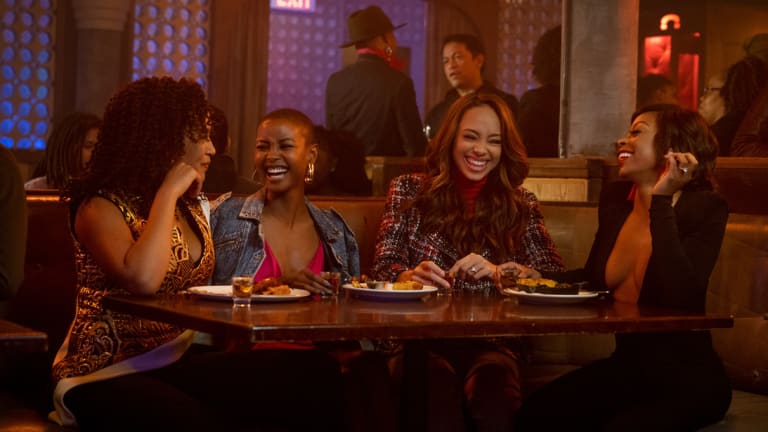 Let's Binge To This: Hennessy 'Run The World' Cocktails
Sip on Hennessy Run the World cocktails that match your inner-Renee, -Ella, -Sondi, and -Whitney.
It's little surprise the Hennessy V.S.O.P X Run The World's Harlem Nights partnership between Cocktail Courier and Starz sold out. Four fabulous, 30-ish and grown Black women striving and thriving in Harlem sounds like a good time filled with yummy cocktails. But don't sweat not getting your hands on a cocktail set, friend, we got you!
If there ever were a time to make your own cocktails, it is now! So absolutely salute the first season of Run The World, streaming now on Starz, brought to us by one-time Hello Beautiful head honcho and Spelman alum Leigh Davenport and all-time fave Living Single innovator Yvette Lee Bowser, with signature cocktails perfect for binge watching.
Whether your Run The World twin is Bresha Webb's zany Renee, who is always up for some shenanigans and never afraid to demand respect on the job or in the sheets; driven, determined and adventurous writer Ella played by Andrea Boudreaux rocking the fiercest short 'do and giving us thrills with her fine could-be-forever-if-he-could-just-act-right boo Anderson (played by Nick Sagar, a British hottie of Jamaican and Guyanese descent); Corbin Reid's sexy Southern genius Sondi who is passing time with perennial bad boy purveyor Stephen Bishop switching it up as Professor Matthew Powell and doting dad while she plays the kind of house we like; or Amber Stevens's play-by-the-rules-all-the-time-except-for-that-one-time-that-threatens-it-all diva in distress Whitney, Hennessy has a cocktail for you! Just pick your joy:
The Renee by Hennessy V.S.O.P
Fun. Fresh. Fierce. For the woman who goes hard in work and in love.
Ingredients:
1.5 oz Hennessy V.S.O.P Privilège

3 oz pineapple juice

1 sliced jalapeño

Garnish: 1 basil leaf and pineapple wedge
Method: Muddle jalapeño in a shaker. Add Hennessy V.S.O.P and pineapple juice with ice in a shaker. Shake and strain into a rocks glass. Garnish.
The Ella by Hennessy V.S.O.P
Strong. Bold. Driven. For the lady determined to find success on her own terms.
Ingredients:
1.75 oz Hennessy V.S.O.P Privilège

0.75 oz sweet vermouth

2 dashes of Angostura bitters

Garnish: 1 orange twist
Method: Combine all ingredients in a mixing glass. Strain into a chilled coupe. Garnish with an orange twist and serve immediately.
The Sondi by Hennessy V.S.O.P
Smart. Sophisticated. Inspired by the Southern girl with her eye on the prize.
Ingredients:
1.5 oz Hennessy V.S.O.P Privilège

0.5 oz Grand Marnier

2 oz strong green tea chilled and unsweetened

0.5 oz fresh lemon juice

1 oz simple syrup

Garnish: orange twist and mint sprig
Method: Combine all liquids in a shaker tin and shake until well chilled. Strain into a Collins glass with fresh ice. Garnish with a twist of orange and a mint sprig.
The Whitney by Hennessy V.S.O.P
Traditional. Classic. Sweet. For the perfectionist who almost always plays by the rules.
Ingredients:
1.5 oz Hennessy V.S.O.P Privilège

0.5 oz simple syrup

0.75 oz fresh lemon juice

Sparkling wine or champagne to top

Garnish: 1 lemon twist
Method: Build directly in a flute glass. Top with champagne and garnish with a lemon twist.