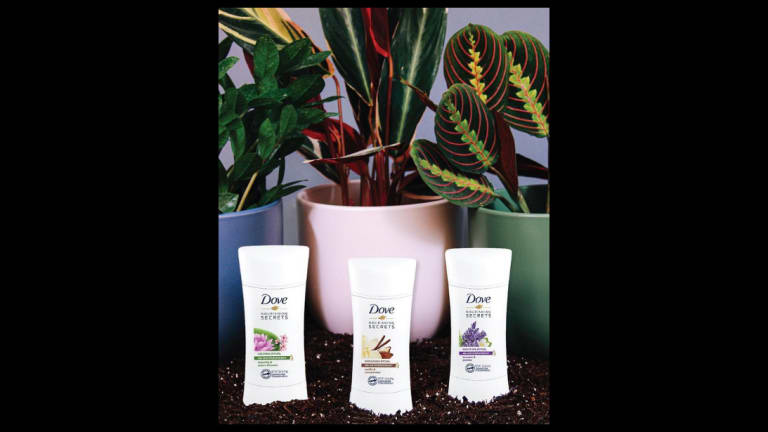 Dove recently partnered with Grounded Plants, a Black-owned company, to celebrate the launch of the new Dove Nourishing Secrets Antiperspirant. Their collaboration, the limited-edition Grounded x Dove Nourishing Secrets Self-Care Plant collection, offers users moments of nature-inspired self-care that access the senses of touch and smell.
Dove, as you know, is a leader in the personal care market and a favorite here at UPTOWN. The Nourishing Secrets Antiperspirant line combines indulgent nature-inspired scents of Waterlily & Sakura Blossom, Lavender & Jasmine, and Vanilla & Cocoa Butter with Dove's one-quarter moisturizers. But the antiperspirant deodorant doesn't just smell good. It also provides 48-hour protection without any alcohol (or ethanol), so it doesn't dry out or irritate precious underarm skin. The Nourishing Secrets Antiperspirant is available in two formulations: A dry stick (SRP $5.29) that glides on easily and a spray (SRP $6.49) that dries instantly. It's also worth noting that Dove responsibly sourced the ingredients to make the fragrances, so using the Nourishing Secrets Antiperspirant can become a pampering ritual you look forward to that doesn't compromise your standards.
Grounded Plants is an enterprise UPTOWN is elated to put on your radar. The D.C.-based start-up was founded in 2020 by two Black women, Mignon Hemsley and Danuelle Doswell. Their goal with Grounded is to "help you disconnect and decompress through the appreciation of plants in the spaces we occupy." The houseplants are selected based on their ability to reduce stress, purify the air, and boost creativity and concentration. Along with providing details on how to care for your plant, where to place it, and whether it's toxic to pets, Grounded also provides the "Spiritual Interpretations" for the plant. For example, the ZZ Plant, which is part of the Grounded x Dove Nourishing Secrets Self-Care Plant collection, is supposed to offer spiritual growth, protection from negative energy, and good fortune. There's a synergy that exists between humans and plants and grounding yourself by touching soil or handling or caring for a plant can improve your health and happiness.
There are three "mindfully curated houseplants" in the limited-edition Grounded x Dove Nourishing Secrets Self-Care Plant collection: The 6-inch ZZ Plant, the Stromanthe Triostar, and the Red Maranta. Each plant is accompanied by a hand-dipped ceramic planter, and is paired with a stick of the Nourishing Scents Antiperspirant to create a self-care ritual that promotes calm (ZZ Plant and Waterlily & Sakura Blossom, $65); soothing (Red Maranta and Lavender & Jasmine, $55); or indulgence (Stromanthe Triostar and Vanilla & Cocoa Butter, $65). The collection is available through the month of March. Be sure to keep the self-care and love flowing by taking advantage of the Staying Grounded mantras on the Grounded site.
In addition to the collaboration sets, Grounded has curated a selection of affordable plants, planters, and other supplies available. Also, the Dove Nourishing Scents antiperspirants are available at Walmart, Target, CVS, Walgreens, Dollar General, and Kroger. This means you can maintain the self-care rituals Dove and Grounded have introduced you to beyond the spring season.