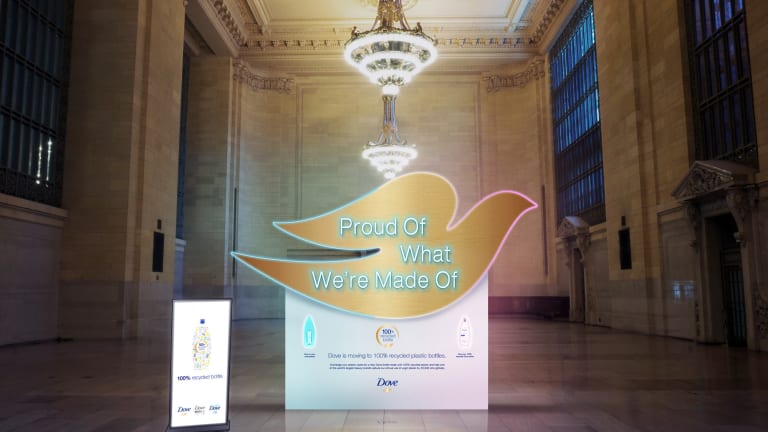 Got Plastic Waste? Dove Wants to Recycle It
Find out how to earn a free Dove Body Wash in a 100% recycled plastic bottle by simply recycling your plastic waste.
On Friday, January 31st, Dove's "Proud Of What We're Made Of" installation will offer visitor's to New York's Grand Central Terminal the opportunity to exchange their used plastic items for a complimentary Dove Body Wash, packaged in the new bottle made with 100 percent recycled plastic.
The initiative is part of the global beauty and skincare brand's and its parent company Unilever's commitment to make all its plastic packaging fully reusable, recyclable, or compostable by 2025. According to press materials, "bottle packaging across Dove, Dove Men+Care, and Baby Dove is moving to 100 [percent] recycled plastic*, reducing the brand's CO2 emissions by 27,265 tons per year, which will result in energy savings enough to charge 3.4 billion smartphones every year.**"
So how does the "Proud Of What We're Made Of" installation work? And how do you get a free body wash?
Each passerby who donates a plastic item for recycling between 11 a.m. and 9 p.m. at Grand Central Terminal will receive a FREE Dove Body Wash packaged in the a new, beautifully unique bottle made with 100 percent recycled plastic. Yes, Dove is rewarding you for recycling. And there's a huge chance you'll fall in love with Dove Body Wash, as we have at UPTOWN, which will make you a consumer of the brand's products contained in recycled packaging in the future and that will lead to less plastic waste. It's all cyclical.
Here are a few more facts about the Dove "Proud Of What We're Made Of" installation and its recycled plastic initiative:
The installation is HUGE (12ft tall, 15ft wide), and was built with as many recyclable materials as possible, and will be powered sustainably. The plastic waste Dove collects from participants will be recycled or disposed of properly post-event.
Participants simply approach the installation, and place their used plastic item into the deposit area. Once the item is received, guests will enjoy a brilliant light show starting at the deposit area, continuing around the full perimeter of the Dove bird and landing at the right side, where they will receive their bottle of Dove Body Wash.
Dove is committed to reducing and reusing plastic waste because it cares about the impact we have on the planet. As a result of this commitment, Dove's annual use of virgin plastic will be reduced by 20,500 tons globally.
For those who can't visit the installation, simply choose Dove the next time you shop and follow the brand's progress on fighting plastic waste at Dove.com.
*where technically feasible in North America and Europe
**Source: