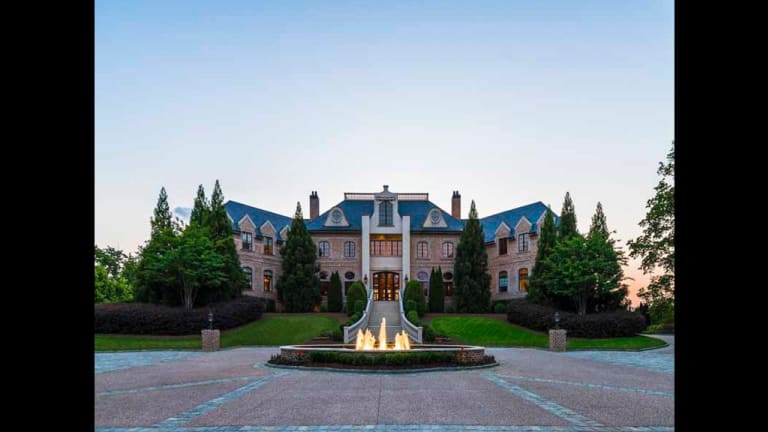 Go Inside: Steve Harvey Purchased Tyler Perry's Former Estate in Atlanta [VIDEO]
Steve Harvey is now the owner of a palatial estate Tyler Perry designed and built in Paces Ferry in 2007.
It should come as no surprise that Tyler Perry, who has amassed a fortune worth more than $600 million, owns several homes, including a Mulholland Estates one Prince Harry and Meghan Markle are currently living in. But back in 2016, Perry sold his palatial estate in Atlanta for $17.5 million, making it the highest-priced home in the history of the city. Steve Harvey now owns the property and it's still the highest-priced home in Atlanta, even though Harvey bought it for $2.5 million less than the seller paid Perry, reports TopTenRealEstateDeals.com. Let's go inside …
Perry built his mansion in the Paces Ferry community of Buckhead on 17 acres of land overlooking the Chattahoochee River in 2007. The producer, writer, director, and actor looked to the Palace of Versailles for inspiration when designing the estate. The 34,668 square-foot home boasts seven bedrooms, 14 bathrooms, a two-story library, stately formal rooms, helipad, infinity-edge swimming pool outside, resistance pool inside, lighted tennis court on top of a two-story parking garage, fully-equipped gym, spa, theater, hobby house, and an underground ballroom with catering kitchen. In addition, the property has a guard house, caretaker's suite, a generator suitable for the entire estate, and a presidential-level security system that includes two gated and secured residential entrances.
Perry also spared no expense when designing the grounds and gardens of the Paces Ferry estate. A large portion of the $40 million he spent to build the home went towards landscaping, specifically full-grown plants, trees, and topiary shrubs. Here's how TopTenRealEstateDeals.com describes the grounds:
"Lush greenery … now spills out into terraced formal gardens from the house with paths twisting through the trees, flowers, and plants. The grounds include an outdoor pool with a Versailles-style painting on the bottom and seating areas among fountains, where guests can relax on bar stools while enjoying drinks and conversation with swimmers."
Perry sold the estate to televangelist David Turner in 2016. Turner used the property, which can easily accommodate more than 100 guests, as a production studio for Jesus Live TV, a web-based Christian TV network. Harvey bought the home from Turner for $15 million. Take a virtual tour of the $15 million estate now owned by Steve Harvey below.