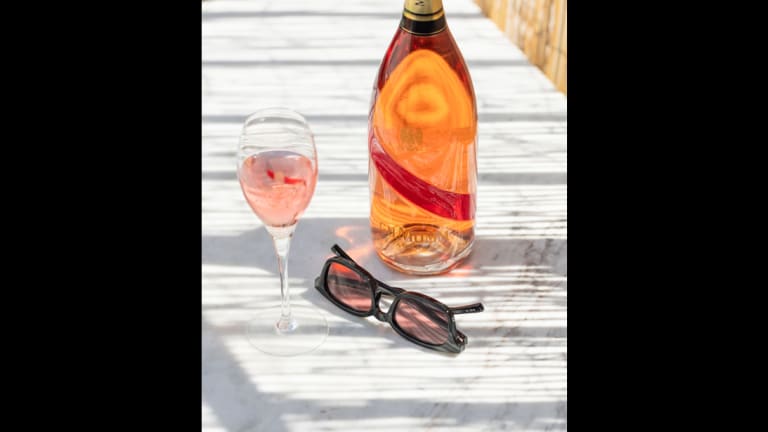 G.H. Mumm Champagne and Le Specs Put a Rosé-ier Spin on Sunglasses
G.H. Mumm Champagne and Le Specs have made looking at the world through rosé-colored glasses an aspiration.
Summer being officially on its way out in this part of the world doesn't mean the sun stops shining. Just like there's a happy hour somewhere, there is most definitely a beach. But to keep the sun out of your eyes, you will need some shades. But the source of your latest pair may surprise you.
If you're a sunglasses aficionado, you may be familiar with Le Specs, the global leader in the space founded in Australia back in 1979. And if you have a taste for the bubbly, you must know G.H. Mumm, the French champagne launched by three brothers from the German Mumm winemaking family dating back to 1827 that just happens to be the Kentucky Derby's official champagne. Now imagine a pairing between the two and you get limited-edition champagne-inspired sunglasses as classic and refreshing as G.H. Mumm in a flute.
Created to celebrate G.H. Mumm's Grand Cordon Rosé, which retails at roughly $52, this collab reflects through its lenses the fruity character created by the rich aromas of the wild red and black berries, typical of the Pinot Noir grape variety found in Maison Mumm's storied vineyards in France's Champagne region. The stylish and comfortably-shaped thick jet black frames, set off by the iconic Le Specs flag stripe dipped in gold, instantly make a statement. Intentionally unisex for all to enjoy, this dynamic blend courtesy of G.H. Mumm and Le Specs makes looking at the world through rosé-colored glasses a revelation.
Do get while the getting is good. Fortunately, there is still time to scoop these limited edition Le Specs, along with its inspiration, G.H. Mumm Grand Cordon Rosé. Just visit the G.H Mumm e-boutique and select the Le Specs X G.H. Mumm Rosé Limited Edition Pack for a steal at just $115 and let the sun keep shining through!