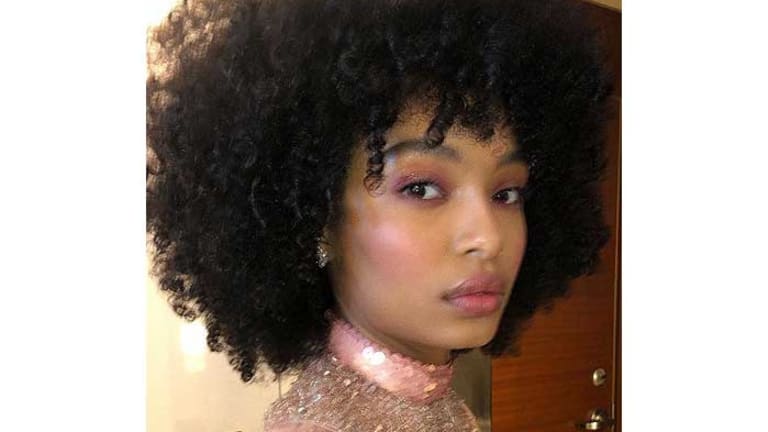 Get the Look: Yara Shahidi's Beauty at the 25th Anniversary SAG Awards
Find out how to get glowing skin like grown-ish star Yara Shahidi, from her go-to makeup artist Emily Cheng.
Yara Shahidi is known for having skin as radiant as her personality is bubbly, so you know she brought a glow to the 25th Anniversary Screen Actors Guild Awards last night, where she served as an ambassador for the awards ceremony. Fortunately for us, Shahidi's beauty look is attainable. All you have to do is follow the steps of the grown-ish star's go-to makeup artist Emily Cheng, who broke down the activist's gorgeous soft and youthful beauty look using SKII skincare products and Bobbi Brown makeup.
According to press materials:
​
For skin: Before the red carpet, Emily prepped Shahidi's cleansed skin with the iconic SK-II Facial Treatment Essence. The most important product to transform skin and create a beautiful canvas for makeup, SK-II's "miracle water" contains over 90 percent pure PITERA — the exclusive miracle ingredient found in all SK-II products that closely mimics your skin's natural moisturizing functions and provides optimal hydration, glow, and texture.
After pouring the lightweight essence into her hands, Cheng gently pressed and patted the product into Shahidi's face and neck with her palms for one minute to ensure even coverage of the miracle water into skin. The iconic essence (unchanged for over 38 years!) provides instant, deep hydration, and leaves skin with a brighter glow, less visible wrinkles, smoother texture, suppler skin, and helps prevent spots.
"I love SK-II's Facial Treatment Essence. It's great because you can use it anytime of year, no matter what your skin is going through," Cheng said. "The lightweight Essence absorbs quickly, but provides deep hydration."
The essence absorbed quickly into the skin, then Cheng dotted the velvety SK-II RNA Power Cream onto Shahidi's forehead, cheeks, and chin, massaging evenly over the face and neck. The luxurious cream is absorbed into the skin after gently pressing and patting with the palms, leaving skin supple and radiant looking – the perfect base for makeup application.
"After gently laying a warm towel on Shahidi's face and massaging a generous amount of SK-II Facial Treatment Essence and RNA Power Cream into the skin, she was left with the softest skin and the absolute perfect base for makeup application," said Cheng. "The steam from the warm towel can help all the products further penetrate the skin."
For makeup: "I love how there are so many layers to the gown and how each part slightly varied," Cheng said. "From the neckline and shoulders to the waist and legs, the textures morphed but all pulled together to create a harmonious piece.
I wanted to incorporate this and use it as inspiration for the makeup by adding another element of such on her eyes. I wanted to create something very organic with movement, while staying soft and youthful.
 It reminds me of an oil painting with the different textures and intensity across the eye. And from each angle it would slightly change."
For Shahidi's makeup base, Cheng applied Bobbi Brown Longwear SPF foundation and a bit of Bronzing Powder in Deep and Blush in Pale Pink. Fun tip: Cheng mixed a couple drops of SK-II Facial Treatment Essence with foundation to provide an additional boost of moisture.
For Shahidi's eyes, Cheng used Bobbi Brown Luxe Matte Lip color in Rebel Rose, the same Blush in Pale Pink, and Crystal Lip Gloss.
"The eyes are purposely not overly-blended, keeping it organic and raw so you get that oil painted appearance," Cheng said. "I used a fluffy brush to stipple and only gently buffing out to disperse the Rebel Rose. Then overlap with another brush to fluff-on the Pale Pink Blush. Right before she left I popped on gloss to add that final dimension." 
For lips, Cheng used Bobbi Brown Crushed Liquid Lip in Haute Cocoa and Cool Beetz.
"Keeping the eye as the focal point while still tying the whole look together, I tapped on Bobbi Brown Pale Pink (the same product I used on her eyes) on the apple of her cheeks," Cheng said. "For the lips, I pressed Crushed Liquid Lip in Haute Cocoa all over to create an even base and then starting in the middle I pressed Crushed Liquid Lip in Cool Beetz and feathered outward, much like a flower blossom."