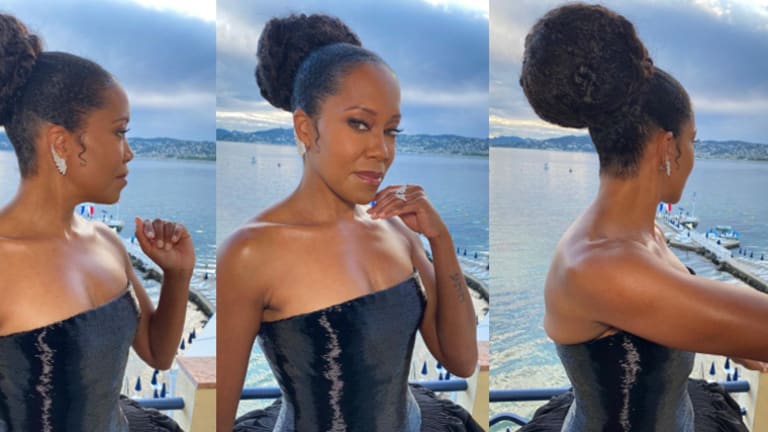 Get the Look: Regina King's Rope Braided Bun Styled by Lacy Redway
Celebrity stylist Lacy Redway coiffed Regina King's hair into a rope braided bun using affordable haircare products. Here's how you can get the look.
When styling Regina King's hair for the amfAR's annual gala in Cannes, Unilever global hair care brand ambassador Lacy Redway considered two things: hydration and King's Schiaparelli Haute Couture ball gown. While most of us can't get our hands on a red carpet-ready gown, we can achieve the King's rope braided bun because Redway has shared her how-to instructions, including the Nexxus and TRESemmé she used.
"Hydration was my crucial ingredient here," said Redway, who also counts Teyana Taylor; Amandla Stenberg; Tracee Ellis Ross; Zazie Beetz; and Ruth Negga as clients, in a release. "I knew I wanted to put Regina's hair up because of the scale of her Schiaparelli dress and give a couture feel to her bun."
The coiffure definitely complemented the Schiaparelli bugle-beaded bodice and the full satin skirt of the dramatic gown that the One Night in Miami director accessorized with a long black and white satin shawl. In addition, the high bun also showed off a pair of sparkling winged Boucheron earrings she wore.
Here's the step-by-step instructions to recreate Redway's handiwork. Plus, none of the Nexus and TRESemmé products she used cost more than $15!
I started with Nexxus Weightless Style Prep & Protect Leave-In Hair Spray ($9.99 Target/Target.com) because hydration was a key step for me here. I knew I wanted to slick her hair and lock in the moisture.
I added Nexxus Curl Define Moisturizing Leave-In Conditioner ($14.99 Target/Target.com), which is rich in silk protein to benefit to her curl pattern. Then, I followed up with TRESemmé Curl Hydrate Curl Cream ($5.99 Target/Target.com) right before brushing her hair up with gel.
After her hair was brushed up, I secured it with an elastic before creating her textured couture rope bun.
The finishing touches are always key when I'm sending my clients off to the red carpet. I added a little more hydration after the gel with TRESemmé Flawless Curls Hydrating Hair Oil ($5.99 Target/Target.com) and handled flyaways with TRESemmé TRES Two Extra Hold Hair Spray ($7.69 Target/Target.com).
Regina King's rope braided bun is certainly red carpet-appropriate, but it's also a great way to draw attention to your tresses while keeping them off your neck during the summer. If you're headed on a boat or near the water, might we suggest this textured ponytail Redway also styled for King?