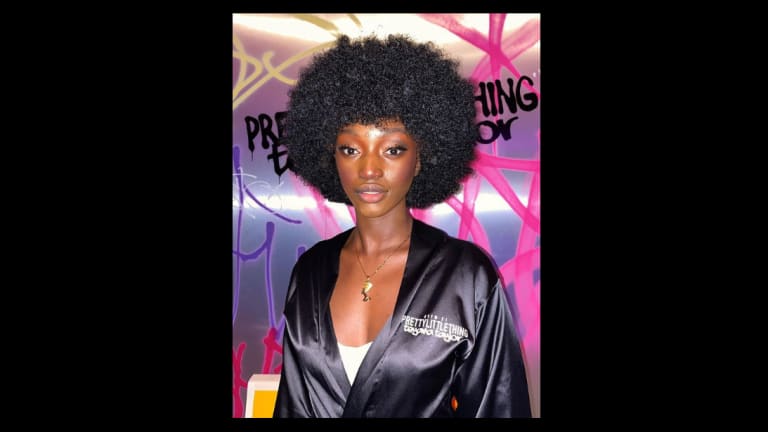 Get the Look: Pretty Little Thing x Teyana Taylor Fashion Show Makeup
You'll never guess the inspiration for the makeup at the Pretty Little Thing x Teyana Taylor fashion show, but it makes perfect sense for the native New Yorker.
The phrase "run-of-the-mill" is not in multi-hyphenate Teyana Taylor's vocabulary (just watch five minutes of her family reality show We Got Love: Teyana & Iman and you'll be convinced), so it should come as no surprise that she chose a rather unconventional beauty inspiration — the heat and humidity in the NYC subway — for the fashion show to showcase her Pretty Little Thing x Teyana Taylor collection. Fortunately, though, recreating the look at home doesn't require a swipe of a MetroCard and a descent underground. You only need to hit up fave makeup brand Stila Cosmetics.
Teyana tasked Stila Cosmetics Global Beauty Director Charlie Riddle with developing a beauty look that would celebrate every skin tone on the catwalk, but it also had to mimic the melted makeup and glistening skin of someone who just got off the MTA subway on a hot NYC summer day. Born and raised in Harlem, NY, Teyana is very familiar with the particular challenges traveling by subway presents to a fully beat face. But she, unlike most, embraced that particular beauty conundrum.
While those with oily skin, like me, may think this is their moment to shine — literally — making sure the product stays put and doesn't actually slide off your face takes a bit of finessing. Here's how to recreate the subway-inspired makeup from the Pretty Little Thing x Teyana Taylor fashion show.
FACE
Apply the NEW deep shade of Stila One Step Correct Primer (launching Spring 2022). Use fingertips and blend out to color correct and even out the skin tone.
Set the complexion with Stila One Step Correct Powder using a powder brush only in the T-zone to smooth out skin and brighten.
CHEEKS
It was all about the glow! Take the Stila Putty Blush/Bronzer Duo for a "high blush" contour. Drape the blush over the contour for a lifted look using a small blush brush.
To highlight, apply Stila Heaven's Hue Highlighter in shade Bronze over the blush using fingertips to really illuminate the cheek and give a healthy sheen. To bump it up a step, add Stila Heaven's Dew in Silverlake for that "wet" effect to the skin. 
EYES
To add that "wet" effect to the eye, use the NEW Stila Glisten & Glow Kitten Kaleidoscope Eyeshadow applied to the center of the lid with fingertips. 
Using a mix of Stila's iconic liners from Stila Stay All Day Liquid Black to Stila Stay All Day Smudge-stick.
Finish with Stila HUGE Extreme Lash Mascara and KISS Lashes for a dramatic last effect.
BROWS
Use Stila Stay All Day Brow Pens in Medium and Dark to create a dimensional ombre brow.
LIPS
Stila Stay All Day was the theme and Stila previewed the NEW Spring shade in Narcisso in the NEW Sheer Formula for that barely there hint of color that lasts. 
For some of the models, Stila went for a bold red to contrast the black and white pieces of the collection using the classic Stila Stay All Day Liquid Lipstick in Beso.