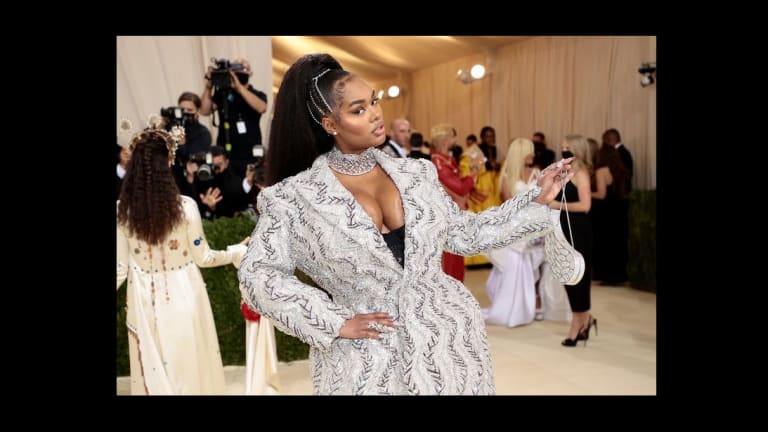 Get the Look: Precious Lee's Snatched Ponytail for the Met Gala
Precious Lee's hair for the Met Gala 2021 is a reminder that most of America's pop culture and fashion originates in Black communities, whether credited or not.
International runway model Precious Lee tapped celebrity hairstylist Mideyah Parker to snatch her hair into a ponytail for the Met Gala 2021 on September 13th.
The theme for the Costume Institute's benefit ball was Americana. Parker played on that theme by creating a quintessential marker of Black beauty — the snatched ponytail. Parker also added some ghetto fabulous (that's a term of endearment btw) elements to the pony, like a zigzag part, cornrows, embellishment, and bundles.
The entire style complemented Lee's AREA look and was a reminder that what mainstream America deems fashionable and worthy of praise is often a watered down version of a trend or fashion staple that originated with Black people in the ghetto or urban areas of America. And these looks, whether they be acrylic nails, nameplate necklaces, hoop earrings, or baby hair, are often condemned until white people co-opt it.
But this isn't the time for a sermon because I'd be preaching to the choir. Instead, let's get to the step-by-step details for how Parker coiffed Lee's hair.
First, Mideyah cleansed and blow dried Lee's hair completely straight.
Parting at each ear, Parker created a cornrow braid on each side of Lee's head.
Next from the nape of her neck, she created one jumbo cornrow braid with zigzag parting to complement the design of Lee's look.
Now for the SNATCH! Parker gathered all the loose hair in an ultra-high ponytail.
She then added five bundles of True Indian Hair Kinky Blowout Straight texture in 28 inches to Lee's natural hair for tons of texture and length.
Next, she wrapped the braids around the base of the ponytail.
For added drama, Parker (safely!) glued over 100 Swarovski crystals to Lee's hair.
For the perfect snatched ponytail, she finished the look with laid baby hair.