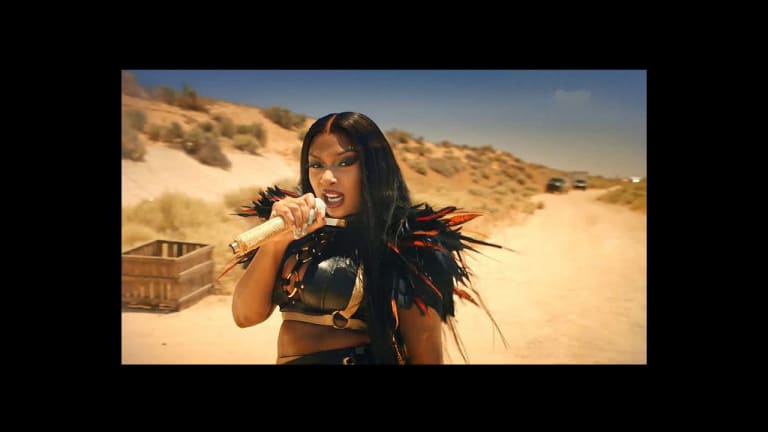 Get the Look: Megan Thee Stallion's Tresses for BET Awards Virtual Performance
Kellon Deryck gives directions on how he styled Megan Thee Stallion's wavy yet sleek look for her virtual performance.
As the winner of Female Hip-Hop Artist and Viewer's Choice at the 2020 BET Awards, Megan Thee Stallion couldn't just deliver your run-of-the-mill, sitting-in-a-home-studio medley performance. Instead, the original hot girl transported viewers to the desert for a post-apocalyptic mashup of "Girls in the Hood" and "Savage" that was certainly reminiscent of Tina Turner as Aunty Entity in Mad Max: Beyond the Thunderdome. Megan's virtual performance was also evocative of Janet Jackson's "You Want This" music video that was directed by Keir McFarlane and released in 1994. Both Tina's platinum spikes and Janet's braided ponytails in the aforementioned works were memorable, and so was Megan's wavy-textured yet sleek look that played off the feather-adorned two-piece she wore for the virtual experience. Megan's look can easily be duplicated thanks to stylist Kellon Deryck sharing how to get the look.
Megan's textured and "sexy, chic hairstyle" was meant to counterbalance the edginess of the performance. Deryck not only paid close attention to the look of Megan's hair unit, but also the health of her natural hair underneath. Here's, in Derycky's own words, how he styled Megan Thee Stallion using Dove's new Amplified Textures line, Dyson hair technology, and more:
When getting ready for Megan Thee Stallion's BET performance in the desert, I had to make sure her natural hair stayed hydrated under her hair unit. To prep, I started off with Dove Amplified Textures Hydrating Cleanse Shampoo ($6.99) and then detangled with Dove Amplified Textures Super Slip Detangling Conditioner ($6.99).
For added hydration and protection after the wash, I followed up with the Dove Amplified Textures Moisture Spa Recovery Mask ($6.99). I applied a generous amount throughout her hair and let it sit for 15 minutes in a plastic processing/conditioning cap, then rinsed with cool water.
I repeated those same steps -- wash, condition, and mask with Dove Amplified Textures -- on her hair unit, which also had a curly texture, after I saw how amazing it made her natural hair look and feel.
​