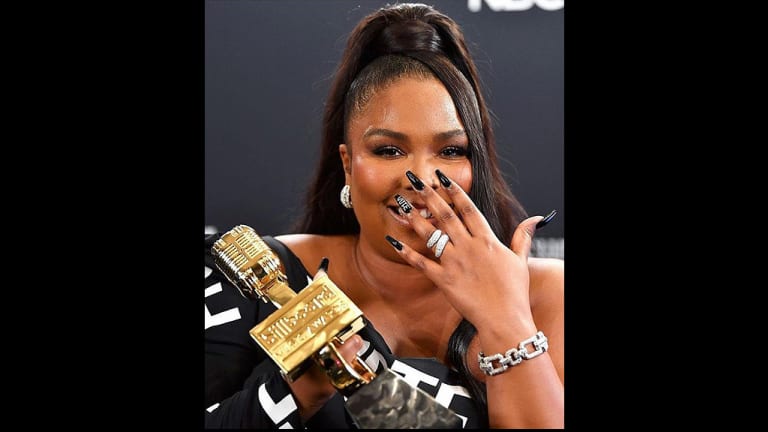 Get the Look: Lizzo's High Ponytail and 'Vote' Nails for the Billboard Awards
Find out how Shelby Swain coiffed Lizzo's hair and Eri Ishizu designed her fingernails for the Billboard Music Awards.
Not one to shy away from giving a message, Lizzo encouraged her fans and viewers of the 2020 Billboard Music Awards to vote, displaying the powerful four-letter word on her custom Christian Siriano dress and fingernails. The Top Song Sales Artist Award-winner kept her hair simple, yet sleek, so her dress and digits could do the talking. Here's how to get her look.
"Since Lizzo was wearing a dope statement dress tonight with a very important message, we wanted to make sure her hair was slicked back off her face so we could let the dress shine," said Shelby Swain, who styled Lizzo's sleek high ponytail, in press materials. "We wanted something sleek and simple, but still super edgy."
The style is something that easily translates to everyday life yet also elevates the typical Zoom look. Fortunately, Swain divulged how she created the look using affordable Dove Hair products:
For tonight's look, I first shampooed and conditioned Lizzo's natural hair with Dove Amplified Textures Hydrating Cleanse Shampoo ($6.99) and Dove Amplified Textures  Super Slip Detangling Conditioner ($6.99) to hydrate it before adding extensions. It's so important to protect hair before installing a wig or extensions since they can cause breakage.
Next, I sectioned her hair out and detangled each section using Dove Amplified Textures  Super Slip Detangling Conditioner ($6.99) again, but this time as a leave-in conditioner, combing a generous amount through the lengths of the hair with a wide-tooth comb.
I then blew her hair straight using the ghd helios professional hair dryer ($249) and pulled it together into a super-tight high ponytail and secured with a clear elastic band to prep for the long ponytail installation, leaving out a chunky section in the front.
I used Bellami hair to add in a long, flowing ponytail unit, wrapping a section of the pony around the base and securing with bobby pins.
To add extra shine to the ponytail and protect it from frizz and fly-aways, I sprayed a good amount of Dove Style + Care Smooth & Shine Heat Protectant ($4.88).
Next, I straightened her hair using the ghd platinum+ styler ($249) and using the ghd curve soft curl iron ($199) to create a soft wave at the end of the ponytail and a cute curl with the front section of hair.
I finished off that cute side curl and the sleek pony by spraying Dove Style + Care Compressed Micro Mist Extra Hold Hairspray ($4.99) to ensure long-lasting hold throughout the night.
Lastly, I laid her baby hairs out and styled them with Dove Amplified Textures Shine & Moisture Finishing Gel ($6.99). The slick shiny texture of the product allowed me the flexibility to mold her hair to perfection for a sleek goddess high ponytail look.
Lizzo's Billboard Awards nail design was also a vibe. Eri Ishizu painted her long nails with OPI Stay Strong GelColor Base Coat and OPI GelColor in "Black Onyx." Then used OPI GelColor in "Alpine Snow" to write "VOTE" frontwards and backwards on Lizzo's ring fingers. Ishizu sealed the design with OPI Stay Shiny GelColor Top Coat.