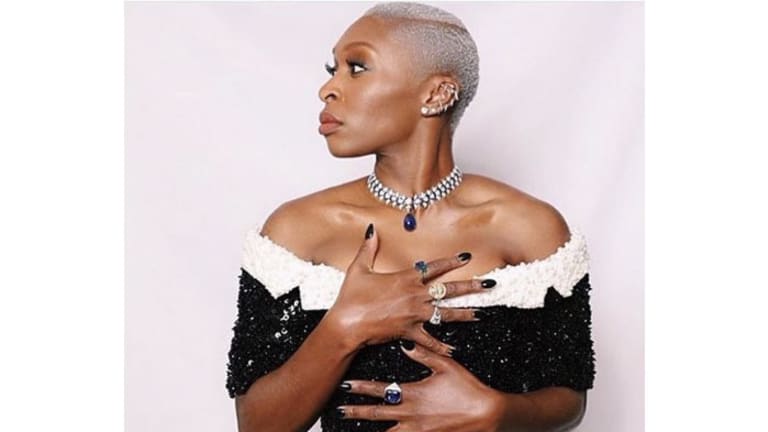 Get the Look: Cynthia Erivo's Chrome Pixie for the Golden Globes
Stylist Coree Moreno ensured Cynthia Erivo's chrome hair would remain healthy with Dove Hair's new recovery mask.
When we think of the "comb-over," chic isn't an adjective that comes to mind, but that's just what happened when we saw photos of the style NYC-based "hair artist" Coree Moreno created for Cynthia Erivo for the Golden Globe Awards last night.
"For Cynthia's look, the concept was an elevated, more feminine version of the 1960s comb-over," Moreno explained in press materials. "Playing off the sexy details of her Thom Browne dress, we wanted to bring a more androgynous contrast with a chrome pixie."
Moreno used Dove Hair products on the actor who was nominated for HARRIET. Not only did these hair products help style Erivo's hair, they also will protect her tresses from damage from the hair color. Keep reading to learn how you can get Erivo's chrome pixie for the Golden Globes.
We started the morning with a double process color creating a custom iced chrome tone to accompany the men's 1960s comb-over vibe. The key to the perfect color is having a well moisturized base, so I was excited to use Dove Amplified Textures Hydrating Cleanse Shampoo ($6.99) and Dove Amplified Textures Moisture Spa Recovery Mask* ($6.99) on Erivo during our color session to ensure her hair is off to a healthy start this award season.
After shampooing, I let the Dove Amplified Textures Moisture Spa Recovery Mask sit on her hair for 10 minutes before rinsing it out to begin our style. I love how this line was made specifically for textured hair, so the moisturizing ingredients were perfect to hydrate Erivo's coils post-process. Once the mask had been fully rinsed out, I applied Dove Amplified Textures Leave-in Conditioner ($6.99) on damp hair and combed through evenly for an added layer of protection.
To style, I used a palm-sized mound of Dove Style + Care Volume & Fullness Mousse ($4.88). I lathered up her hair and then went in with a comb to slick down her hair. I repeated the process a second time to build structure and hold.
To finish, I refined and detailed areas like her hairline and nape with Dove Amplified Textures Shine & Moisture Finishing Gel ($6.99) The slick shiny texture of the product allowed me the flexibility to mold her hair and refine details. To finish, a generous blast of Dove Style + Care Micro Mist Extra Hold Hairspray ($4.89) kept the structure perfectly in place all night without flaking. And I added a light diffuse for additional hold and dry.
Jason Bolden, creative director/co-founder of the JSN Studio and star of Netflix's Styling Hollywood, styled Erivo's overall look that hearkens back to Old Hollywood. Thom Browne designed her bead-encrusted tuxedo gown that reportedly took 800 hours and 11 people to create. Erivo completed the look with Bulgari jewels. Terrell Mullin was responsible for her gorgeous beat with Armani Beauty makeup.
*The new Dove Amplified Textures will be exclusively available at Target this February and at all food, drug, and mass retailers this April.