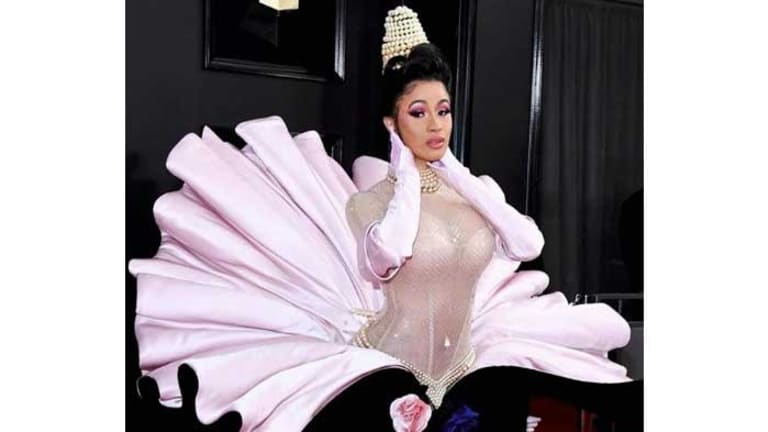 Get the Look: Cardi B's '90s Updo & Bedazzled Nails for the Grammys
Find out how to get Cardi B's pearl updo and Swarovski nails from her personal hairstylist and manicurist.
Cardi B created a major moment, love it or hate it, on the red carpet by donning a vintage Mugler Couture gown from the fall 1995 collection, for the Grammy Awards last night at LA's Staples Center. Although the gown was a scene-stealer, it was helped along by her hair and nails, you know, the ancillary players of any look. We have the details on how you can create your own pearl updo and bedazzled nails straight from Cardi's own stylist and manicurist.
The dress transformed her into a human pearl inside her oyster shell gown. The dramatic pink and black look featured a pearl belt, matching necklaces, and a pearl headpiece. Celebrity hairstylist Tokyo Stylez was certainly influenced by the couture nature of the Mugler gown and created a headpiece similar to the one worn by Simonetta Gianfelici 25 years ago.
"The inspiration behind Cardi B's red carpet look is a '90s-influenced pearl updo to play up her couture ensemble," said Stylez, who partnered with Suave Professionals to create the look, in press materials.
While prepping my wig units to be styled, I start off by washing it with Suave Professionals Coconut Oil Infused Damage Repair Shampoo to ensure a thorough cleanse after dying. I repeat this step 2 or 3 times until I can feel the hair is stripped of the excess dye and the hair dye is no longer running. I used the same shampoo to wash Cardi's hair to clean and protect the natural hair under the wig. I typically braid hair straight back in preparation for application of the wig.
I sit the wig in the Suave Coconut Oil Infused Damage Repair Conditioner for about 45 minutes before I rinse it so it gives it this very silky feel to the touch and leaves a beautiful coconut scent that my clients absolutely love.
I let the wig air dry for about 20 minutes before I use my Dyson Supersonic Pro Hair Dryer, due to its fast-drying time with the diffuser attachment, it gives the hair a light bounce and weight to and it simulates a natural dry.
Once the wig is in place, I use a light amount of the Suave Professionals Sleek Anti-Frizz Smooth & Shine Cream so when I blow dry the hair again before I style, this will help combat any fly-aways.
Next, I use a small amount of Suave Professionals for Natural Hair Define & Shine Serum Gel for added shine. You want the shine to look light and subtle.
I use the Dyson Supersonic Pro Hair Dryer without attachment for 10 minutes before I use the smoothing nozzle to begin molding the hair into a nice updo, securing style with bobby pins.
I set the style by using the Suave Professionals Firm Control Finishing Hairspray before pining the pearls around the top half of the updo. I use the Dyson Supersonic Pro Hair Dryer with the Style Concentrator to pin point spots to apply hairspray, so it holds better.
TIP: I will periodically use the Suave Professionals Firm Control Finishing Hairspray as needed throughout the night to ensure the hairstyle stays intact.
The rapper who made history last night as the first woman to win a Grammy for best rap album tapped celebrity nail artist Jenny Bui to get her digits looking just right with more than 200 Swarovski Crystals.
Start by applying OPI GelColor Base Coat to nails.
Next, polish the nails with OPI GelColor "Machu Peach-u" for soft peachy neutral shade.
Follow with OPI GelColor Top Coat.
Once dry, finish look by gluing small Swarovski Crystals to frame the nail with one large, centered crystal on each fingernail for perfect elegant manicure.