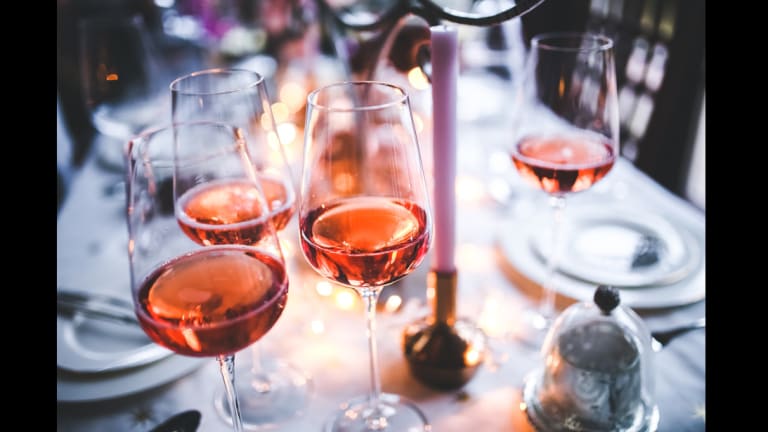 Yes, Please: Five $30 and Under Rosés for National Rosé Day
This National Rosé Day, you can keep your coins and sip one of these fantastic $30 and under rosés. Cheers!
In a perfect world, my liquid intake would be water, tea, and rosé all day, but I don't want to be the patient who has to admit to her doctor that she consumes alcohol everyday instead of occasionally. But June 12th presents the perfect opportunity to sip the pink-hued vino all day because it's National Rosé Day. Here are our favorite $30 and under rosés to kick-off the season and enjoy through the summer.
We may not be summering in the south of France, but that doesn't mean we can't drink like we are. Enter Château Minuty, the iconic producer of Côtes de Provence Rosé that has a new year of crisp vintages that brings the French Riviera to your tastebuds. Don't let the prices of the Minuty Prestige 2020 ($30) and M de Minuty 2020 ($23) fool you because they taste like an expensive prestige wine.
How the producer describes Minuty Prestige 2020: "The wine is beautifully pale with pomelo highlights. The nose is precise and delicate with notes of flowers and melon. In the mouth, the wine is powerful and well balanced, with notes of citrus and red fruits. It is the most structured and expressive of all the Minuty wines. The whole is underlined by a pleasant minerality."
How the producer describes M de Minuty: "Fresh, lively and perfectly balanced, fantastic quality, a glass in hand transports you to the seaside and the French riviera lifestyle, watching the sea and the sky, surrounding yourself with friends and family, and enjoying life to the fullest. This wine is light and bright in color. The nose has very intense aromas of orange peels and red currant, while the mouthfeel is smooth with a nice freshness."
Now that we've been transported to France, let's continue our palate travels to the LBC and sip it with none other than Snoop D-O-G-G, who has linked with 19 Crimes for the new release Snoop Cali Rosé ($11) after having success with Snoop Cali Red, the Australian brand's first California wine. The brand new rosé recently had a cameo in the Hip-Hop legend's "CEO" music video and will have you feeling like a boss in P-I-N-K.
How the producer describes Snoop Cali Rosé: "Snoop Cali Rosé is fruit forward with notes of fresh raspberry, strawberry and red cherry. A blend of Zinfandel, Grenache, and Pinot Noir give this wine a pleasant mouth feel with balanced acidity and sweetness."
We eat lighter, dress lighter, and drink lighter in the summer. That's why rosé, the perfect combination of red and white wines, is so popular in the heat. However, on the oppressively hot days of the season, we're going to need something much colder than a chilled rosé. Fortunately, Martini & Rossi Frosé ($3.99/pouch) exists! This slushy, bar-quality beverage takes the hassle out of mixing frozen margaritas, daiquiris, and other summertime cocktails because it's simply grab a pouch and sip after freezing. Its made from real Italian wine and all-natural fruit flavors, and doesn't contain any artificial sweeteners, colors, or high fructose corn syrup.
How the producer describes Martini & Rossi Frosé: "Martini & Rossi Frosé is an Italian rosé wine with natural strawberry, lemon, grapefruit, and peach flavors."
The combination of rosé and prosecco is an instant party in a glass. La Marca Prosecco Rosé ($15.99) is celebrating its first rosé season after its highly-anticipated U.S. debut late last year. As we prepare our spreads for National Rosé Day, keep in mind that these rosé-colored nibbles pair well with La Marca's offering: spiced mixed nuts, beet crackers, cured meats, parmesan and pecorino cheese, prosciutto wrapped melon, strawberry rhubarb jam, strawberries, pink macarons, pink yogurt-covered pretzels, tomato bruschetta, crostini, and figs with bleu cheese.
How the producer describes La March Prosecco Rosé: "Crafted in the heart of Italy, La Marca Prosecco Rosé sparkles with lively effervescence and features a bouquet of aromas including white flowers, pear, and peach with notes of fresh strawberry and cherry."