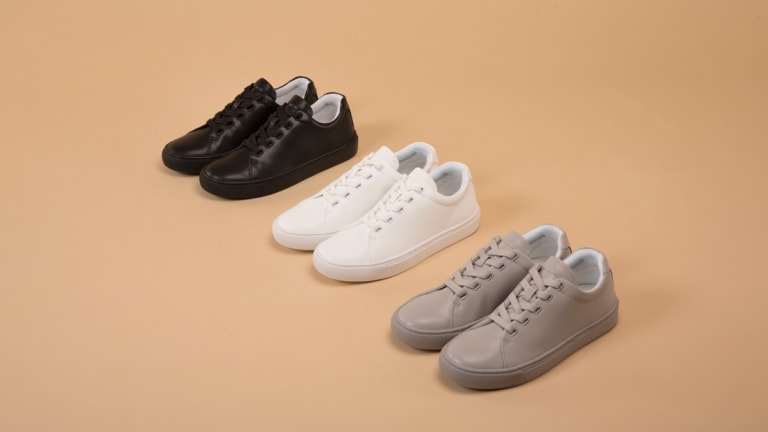 Editor's Pick: Projext & Co. Scooter One Is the Last Sneaker You'll Need to Buy
You're going to appreciate the timeless design, style-ability, and sustainability of the gender-neutral Projext & Co. Scooter One Sneakers.
Projext & Co. may have been founded in 2020, but its Scooter One Sneakers are timeless. Here's how these shoes will revolutionize your wardrobe.
Projext (that's project + next) is a newbie in the shoe and lifestyle industry, but it's made up of footwear industry veterans and experts, product engineers, international designers, and material specialists who are continuously thinking outside the box. Unlike fast fashion brands, Projext has committed to executing its enduring designs in ways that are eco-conscious and ethical. Since the brand's core value is sustainability, Projext factory workers have fair working hours and wages. It also chooses partners who share the sustainability mission. In addition, the brand has 100 percent traceability into its manufacturing; 90 percent traceability into its raw materials processors, mills, knitting, packaging, outsole producers, and other components; and 30 percent traceability into its yarns, polymers, and chips. It also has committed to continuously seeking ways to improve. For example, Projext works with organizations like Tree Nation to plant two trees for every pair of shoes or item it sells, in an effort to offset its carbon emissions.
Trend forecasters have predicted that classic sneakers with streamlined designs will replace the "dad sneaker" this year, so the Scooter One ($115) has come along at just the right time. Not only does this gender-neutral shoe look great with casual wear like sweatpants and jeans, but it also pairs well with dresses, professional pants, and even a full-on suit for a fashion-forward formal look. Since the Scooter One is free from logos and non-functioning or unnecessary elements, it will never feel dated, so you'll find yourself reaching for your pair time after time.
It's available in white, grey, and black Prime Fiber Leather, which is basically a hybrid of up-cycled leather from waste on the tannery floor and artificial polyester fabric that is coated with environmentally-friendly "solvent-free" resin to create a coated surface. The result is a sneaker that is simultaneously lighter and stronger than leather as we know it, in addition to being scratch-resistant and waterproof. Other materials include organic cotton, natural and recycled rubber, recycled paper, and Merino wool that is blended with Tencel and other materials to make the patented Soufflé Fit Technology material that makes the shoe lining soft, breathable, and moisture-wicking.
Whether you're someone who wears sneakers everyday or someone who needs a timeless design because sneakers aren't your go-to footwear, you'll appreciate the durability and style-ability of the Scooter One Sneakers, regardless of the color you choose. As a human on this planet, you'll appreciate Projext & Co.'s commitment to slow, sustainable, and eco-conscious fashion.