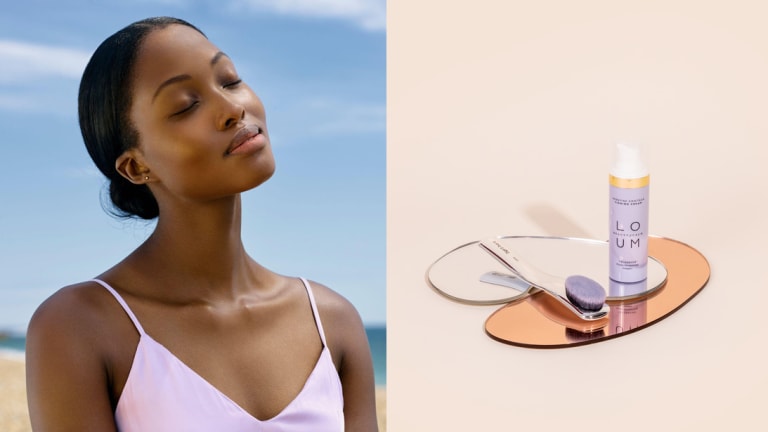 Editor's Pick: The Skincare Gods Have Shown Their Love With the Loum X Artís Collab
The limited-edition Loum X Artís Firm & Glow Skin Set creates a facial ritual that calms the spirit on the inside and the skin on the outside.
With a mindset that self-care is love, calm-driven skincare brand Loum teamed up with Artís, the preeminent brand for beauty tools, to create a limited-edition facial set.
Loum is all about skincare that melts away stress and calms the skin to prevent damage and aging. Artís creates skincare brushes that are as beautiful to admire as they are effective at exfoliating and smoothing product onto the face. When you put Loum and Artís together you get a skincare ritual that not only treats the skin, but also calms your spirit.
If there's anything the past year has taught us, it's to enjoy the small moments and that's exactly what the Loum X Artís Firm & Glow Skin Set ($110, regularly $139) offers. It's made up of the Loum's Redefine Contour Firming Cream and the Artís Oval Digit 6 Skincare Brush. The cream lifts and redefines the contours of the skin with the help of plant-derived collagen, lycopeptides, bakuchoil (a plant-based retinol alternative), and Loum's patented TriSerene complex. The bestselling brush has a sleek, ergonomic handle and vegan and cruelty-free Cosmefiber bristles that are easy to clean.
One could simply spread any skincare product on their face, but it's truly calming and self-loving to take a few minutes to gently apply the Loum cream to the contours of your face using the Artís brush. The ritual of massaging your face with the cream and brush will ease the tension you're feeling inside and the stress your face is feeling on the outside. The Cosmefiber bundles of the Oval Digit 6 brush are densely packed to ensure that every outline of your face gets treated to the rejuvenation power of the Redefine Contour Firming Cream.
The Loum X Artís Firm & Glow Skin Set has a limited run that ends on February 28. However, both the Loum Redefine Contour Firming Cream ($74) and Artís Oval Digit 6 Skincare Brush ($65) are available individually because we all deserve pampering self-care beyond the month of love.