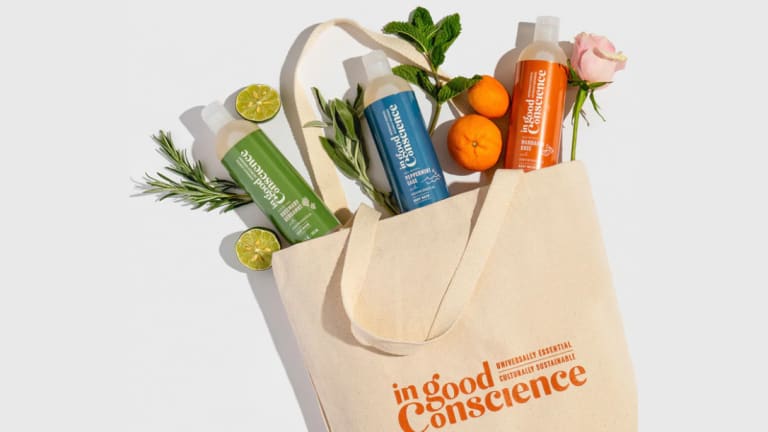 Editor's Pick: In Good Conscience Body Wash Is Good to Your Skin and Soul
With a focus on environmental and cultural sustainability, In Good Conscience body wash is leaving the world better than it was found.
There are four main reasons In Good Conscience body wash has made UPTOWN's "Editor's Pick" list, besides its efficacy as a personal care product for all skin types and tones.
For starters, In Good Conscience founder Jerome Clark has 20 years in the beauty and personal care game as a marketing executive. So it's safe to say he knows a thing or two about how important it is for a body wash to be a sensorial experience, as well as effective in cleaning the skin. With its scents of Mandarin Rose, Rosemary Bergamot, and Peppermint Sage, In Good Conscience definitely provides a memorable bathing experience, one that you can rest assured isn't doing harm to your body as it cleanses because the brand uses a high percentage of ingredients that are natural or naturally-derived, like babassu oil. In Good Conscience even provides a breakdown of its body wash formula.
If you're unfamiliar with babassu oil, let me introduce you. Similar to coconut oil, babassu oil is sourced from a palm (you guessed it, the babassu palm) and grows in tropical regions. In Good Conscience sources its babassu sustainably from the Dominican Republic. The oil has been used culturally to moisturize skin and hair, as well as to treat minor wounds, inflammation of the skin, and other skin conditions. It's also antibacterial. Since I began using In Good Conscience, I've noticed that my skin no longer feels tight in the time between drying my skin with a towel and applying lotion.
In addition to sourcing ingredients sustainably, avoiding animal testing, and continuing to reduce its environmental footprint, In Good Conscience has committed to cultural sustainability practices. The brand prioritizes collaborating with Black and minority-owned businesses to bring its product to market — from community banking, to manufacturing, to third-party logistics, to P&R and marketing.
In another instance of making the world better than it was found, In Good Conscience contributes up to 5 percent of product proceeds to non-profit organizations with a mission to advance the socioeconomic conditions within underserved communities. With ties to North Tulsa, Clark and In Good Conscience have enjoyed an ongoing partnership with the Tulsa Dream Center, which aims to empower the community of North Tulsa.
In Good Conscience is not only good to its customers' skin, but also their soul by focusing its business practices on environmental and cultural sustainability, along with improving Black and Brown communities.