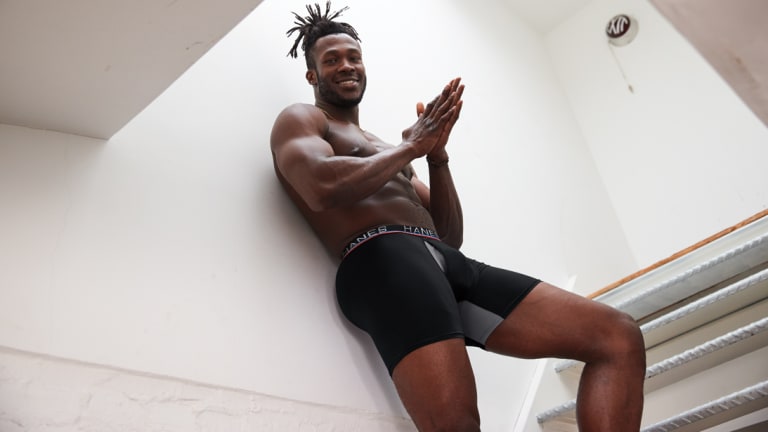 Editor's Pick: ​​Hanes Sport X-Temp Total Support Pouch Boxer Briefs
The Hanes Sport X-Temp Total Support Pouch Boxer Briefs can handle any occasion, whether you're hitting the nature trail or the local sports bar.
Men's undergarments – from jockeys, to trunks, to boxers, to boxer briefs – have evolved drastically over the last century. But now is the moment we realize we've been doing it all wrong, and give up our old briefs and bring in the new-new. The new Hanes Sport X-Temp Total Support Pouch Boxer Briefs are a game-changer. Imagine this, briefs that are cool, breathable, comfortable, and have an innovative pouch to house your family jewels.
These briefs are like something we have never felt before, and Hanes really thought about us when it designed these drawers. As men we know that sometimes our bodies go through many "changes" in a day and having the extra space in the pouch is such a help. It's also worth noting that they are tag-less, odor-controlling, and are available in cotton or a polyester/spandex blend. When wearing these briefs for the first time you can definitely tell the difference in all the right places. The comfort of being able to walk freely without having to worry about chafing on your legs or a jagged waistband imprinting onto your skin is a simple pleasure we all deserve. Somehow, the elastic waistband fits skin-tight yet is barely noticeable when taking the underwear on and off. In addition, the leg openings are a perfect fit for any body type – whether you are a muscular build, skinny, bulky, or unique – because the contour of the new Hanes X-Temp Total Support Pouch Boxers Briefs will adjust to any body type. 
Some other notable details about these new briefs are the price and the various patterns and colorways they're available in. For $30 (on sale), you can get a four-pack of briefs in a variety of color combos and patterns. The sleek black design goes well with just about any style of clothing, or you can spice it up a little with a shade of blue, grey, or even red, the decision is yours.
Underwear is the essential piece of clothing that most men need to get their day going. The Hanes Sport X-Temp Total Support Pouch Boxer Briefs are that morning refresher we never knew we needed. So why not begin the day with a little extra support? We can all use the assistance, I'm sure.