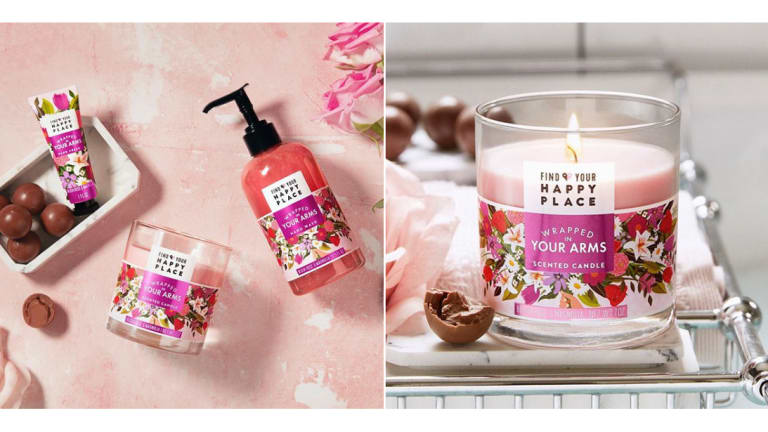 Editor's Pick: Give Your Galentine a Sensorial Experience With Find Your Happy Place
The Find Your Happy Place collection, Wrapped in Your Arms, celebrates friendship and love with a fragrance of magnolia and blush rose.
Find Your Happy Place has released the new Wrapped in Your Arms collection that allows you to share a sensorial experience with your Galentine even if you can't be together.
The aim of Find Your Happy Place is to elevate bath and shower time from an exercise to simply get clean to one that brings peace. So the brand asked people across the country how they get to their happy place. The answers inspired the seasonal bath and body collections that help users create a mood-enhancing ritual through the use of fragrance and the feel of shea butter, cocoa butter, and vitamin E. Sally from Vermont inspired the Wrapped in Your Arms collection when she answered, "My best friend, my rock. Wherever we are, whatever we're doing, the moment is always special because we are together."
Wrapped in Your Arms celebrates the scents of blush rose and magnolia, as well as peony, and is intended to transport you to a "Love Mindspace" with its bath and shower gel ($6.97), body lotion ($6.97), whipped scrub ($6.97), bath bomb ($4.97), hand wash ($3.97), hand cream ($3.47), and scented candle ($9.97). The light floral fragrance is truly divine. (Even my cat enjoyed smelling it!) You and your Galentine will find yourselves sniffing the products just for a moment of calm even if you're not bathing or moisturizing. In addition, the Find Your Happy Place products aren't harmful because the cleansing products are free of sulfates and parabens, and the candle is made from premium grade wax and has a lead-free wick.
Find Your Happy Place is available exclusively at Walmart. And if you or your bestie have a special way of making positive moments, the brand will continue to crowdsource happy places from its real consumers in order to create seasonal-appropriate gifts throughout the year. You can learn more at @FindYourHappyPlace and #ShareYourHappyPlace.