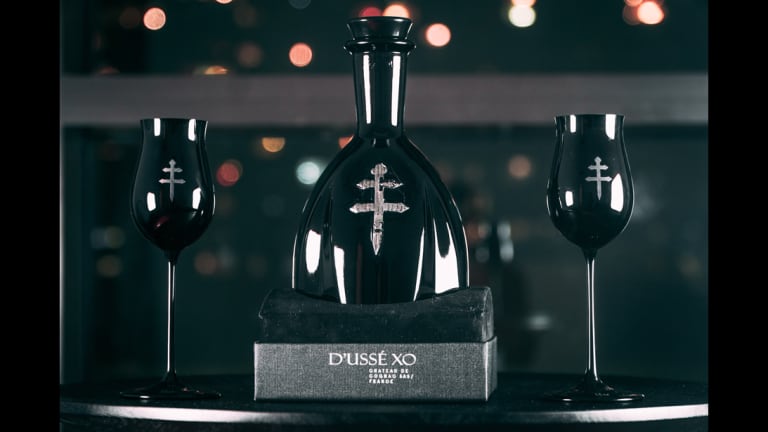 Editor's Pick: Limited Edition D'USSE XO & Riedel Glass Set
The D'USSE XO & Riedel Glass Set makes an impressive gift for a loved one or yourself because receiving is just as great as giving.
Two of our favorite premium brands, D'USSE Cognac and Riedel, have once again joined together to give home bars the sexy update they deserve. But your opportunity to snag a D'USSE XO & Riedel Glass Set ($280) for yourself or as a gift will likely only last for minutes when it's released today, Dec. 2nd, at 3 p.m. on ReserveBar.com.
The XO set sold in mere minutes when it was initially released last month. This should come as no surprise when you consider people are consuming more premium spirits and cognac, in general, has shed its reputation as an old school nightcap and has gained popularity among classic and new school cocktail lovers. In addition, D'USSE XO is beloved for its depth of flavor and aroma, which includes notes of blackberry and apricot layered with hints of dark chocolate and walnut, as well as its balanced finished, having been aged at least 10 years. It's a masterful blend by the world's most senior Maître de Chai, Michel Casavecchia. Also, Riedel has been producing fine glassware for more than 300 years. If you've ever held one, then you know most glasses don't compare.
The sleek D'USSE XO & Riedel Glass Set includes a bottle of D'USSE XO and two sexy tulip glasses, all done in the most beautiful jet black-colored glass we've ever seen. The glasses have an elongated stem and the tulip shape allows the cognac to express its flavors and aromas. All three pieces in the set are etched with the Cross of Lorraine, which symbolizes honor, courage, and perseverance in French culture.
The XO set is the perfect marriage of the style and elegance we've come to expect from D'USSE cognac and Riedel glassware.