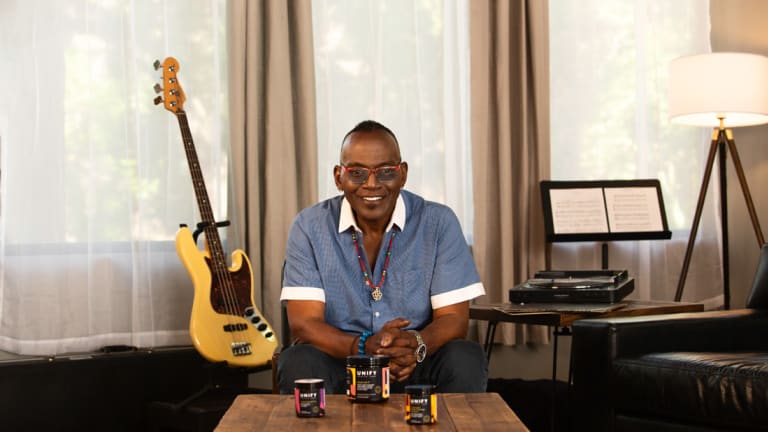 Editor's Pick: Drink Your Way to a Healthy Gut With Unify Health Labs
Improve your gut health, manage your weight, and increase energy with Randy Jackson's Unify Health Labs products.
After a year and some change of being less active than usual, eating for anxiety and pleasure, and imbibing to celebrate even the most minuscule of wins, your gut health could use some help. Unify Health Labs' top-three products will give your digestion system the boost it needs to improve your overall health.
When music producer and television personality Randy Jackson was diagnosed with type 2 diabetes, he decided to make a lifestyle change. However, he found that the wellness industry was "complex and downright confusing." Realizing that others were probably having a similarly difficult time improving their health, the entrepreneur was inspired to create Unify Health Labs. The line aims to help others navigate the wellness process more easily and simply with multitasking products that support optimal gut health. The Unify Health Labs products have the backing of scientific research and are made from pure and potent ingredients with third-party labs completing the quality testing. Plus, they're free from preservatives, antibiotics, synthetic fillers, and food coloring.
The Total Multi-Cleanse ($74.95) naturally "resets" your gut with a formula that uses essential nutrients, prebiotics, and three strains of research-tested probiotics. You simply mix a scoop of this powder with water or your favorite beverage and you're on your way to a balanced gut. The Multi Metabolic 5 ($74.95) are metabolism boosting capsules that contain a unique blend of natural compounds. They're an easy way to gain more energy, better digestion, and improved moods and sleep patterns. If you have a little more time in your day and/or often find yourself needing a delicious treat, then you'll be happy to have the Multi-GI 5 ($69.95) in your pantry. This strawberry lemonade-flavored powder mixes well with water or tea, but it also is just divine as part of a vegan chocolate milkshake. Yes, you can have chocolate and still consume 12 powerful gut-health boosters — from prebiotics that feed "super-fuel" to the newly-introduced probiotics, to the GI Health Blend that naturally reverses a "leaky gut." 
Unify Health Labs products are effective on their own, but you can accelerate your results when you stack them. Of course, you should consult your doctor before trying any supplement.
Get the recipe for Randy Jackson's favorite morning chocolate milkshake and a lemon tart smoothie that also uses the Multi GI-5.
Randy's Morning Milkshake
Ingredients (serves 1):
1 barely ripe banana, frozen and cut into chunks
2 Tbsp unsweetened cocoa powder
1 scoop Multi-GI 5
1 Tbsp almond butter or peanut butter
1/2 cup skim milk or unsweetened almond milk
1/2 Tsp vanilla extract
Stevia or honey to taste
Method: Make sure you cut your banana before freezing. It should be fully frozen before starting or your drink will be more of a smoothie and less of a milkshake. Pulse oats and cocoa powder together in blender until well-pulverized. Add Multi-GI 5, banana, nut butter, milk, and vanilla, and blend until smooth. Taste and add stevia or honey, if needed. Serve and enjoy a delicious, satisfying dessert that feeds you AND the good stuff in your gut!
Multi-GI 5 Lemon Tart Smoothie
Ingredients:
1 scoop Unify Health Labs Multi GI-5
1/2 cup nonfat yogurt
1 inch piece lemon peel (without rind)
2 Tbsp lemon juice
1 whole banana
1/4 inch piece fresh ginger
1/4 cup oat milk
1/2 cup ice
Method: Combine ingredients in a blender until smooth.