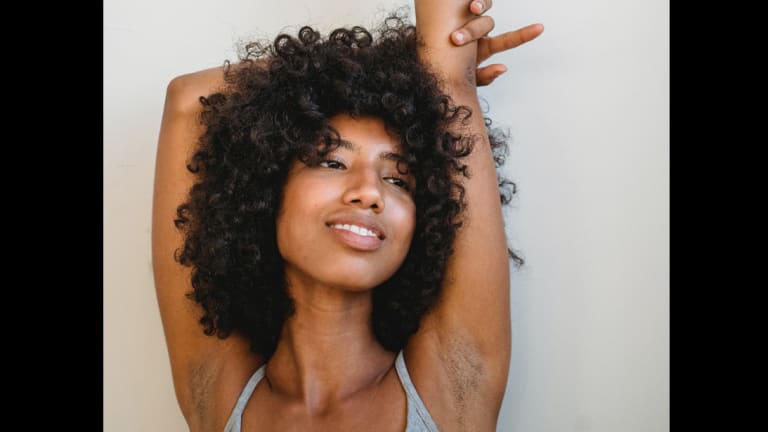 Editor's Pick: Dove Ultimate Antiperspirant Is the Skin Care Your Pits Deserve
The Dove Ultimate Antiperspirant gives underarms the attention and care we typically reserve for every where else on our bodies.
A few years ago, I had the unfortunate and unpleasant experience of the skin of my right armpit getting infected. I had noticed a tiny pimple one morning, and less than 24 hours later, a skin balloon filled with greenish-yellow fluid was dangling from my underarm. This malady was not only gross but also painful, as it felt as if the layers of skin under the bubble were on fire – and it was summer in New York City. I rushed to the emergency room only for a physician to tell me there wasn't any thing that could be done and to let the bubble pop at home. That wasn't an acceptable solution to my mom and I. We're well aware of medical practitioners who don't resemble their Black patients not taking our concerns and pain seriously. In addition, nothing medical is ever straightforward with me. So my mom asked the doctor what happens if the bubble bursts and I get sepsis, which made her reconsider her initial plan of inaction and she instructed a nurse to lance it. I can't describe the relief I felt from the nurse cleaning my armpit with a solution that was cold. Once I was on the road to recovery, I started wondering what could've caused the infection in the first place. I remembered that my underarm had been really dry and that I had scratched it – a little too vigorously, obviously. My theory is that some sort of bacteria under my fingernail transferred to under my skin and wreaked havoc. But if I'd had the new Dove Ultimate Antiperspirant in my beauty arsenal, I probably wouldn't have experienced the irritation that precipitated the infection. 
We tend to care for every where else on our bodies, including the bottoms of our feet, better than we do our underarms, and that's likely because our main foci are usually odor and sweat prevention. But our underarms deserve tender love and care just like the rest of our skin. I asked Dr. Heather Woolery-Lloyd, a board-certified dermatologist who is the director of the Skin of Color Division for the University of Miami Department of Dermatology, over email what separates the Dove Ultimate Antiperspirant (SRP: $9.99) from others and why we should think of it as skin care for our armpits.
Why was it necessary to create an antiperspirant that cares for underarm skin? 
Dr. Heather Woolery-Lloyd: Underarm skin is delicate, and some ingredients in antiperspirants can irritate sensitive skin. As a dermatologist, I see this all the time and this is a common problem in my practice. By creating an antiperspirant that utilizes humectant moisturizers, Dove Ultimate Antiperspirant Deodorant protects against dryness and helps to strengthen the skin's barrier by boosting ceramide levels. This product is unique because it focuses on skincare in an area that is often forgotten.
What ingredients allow the Dove Ultimate Antiperspirant to care for the skin? 
Dr. Woolery-Lloyd: Dove Ultimate Antiperspirant contains 6x more humectant moisturizers than a regular antiperspirant. It also contains ceramides, and a study showed that after using this antiperspirant, ceramide levels in the underarm skin increased by 74 percent. By increasing lipids and hydration, the end result is softer and healthier underarm skin.
What separates this antiperspirant from Dove's others?
Dr. Woolery-Lloyd: The main difference is that it contains 6x more humectant moisturizers (vs. Dove Advanced Care) In addition, this antiperspirant is Dove's first to use water-based technology to deliver some ingredients. This focus on hydration and moisturization results in easy application (glides smoothly without clumping) and softer underarm skin.
In addition to being skin care for your underarms, the Dove Ultimate Antiperspirant offers 48 hours of protection from sweat and odor and is available in a range of six fragrances: Peony & Rose Water, Cucumber Water & Mint, Coconut & Sandalwood, Jasmine & Vanilla, Orchid & Blackberry, and Gardenia & Aloe. Now, go show your armpits some love!