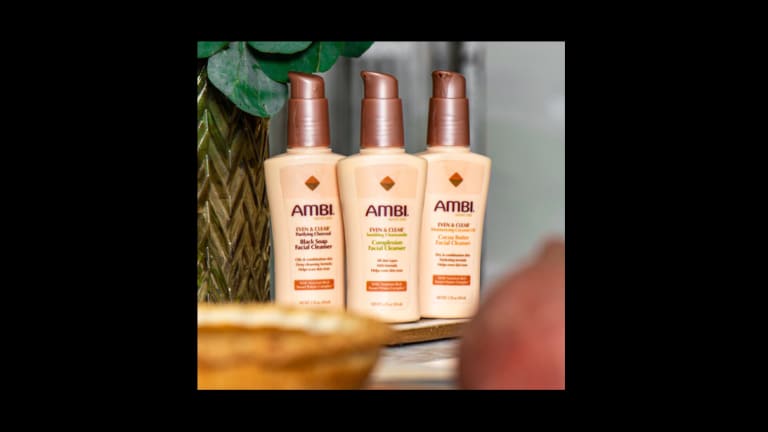 Editor's Pick: AMBI Wants You to Put Sweet Potatoes on Your Face
AMBI has taken the nutrient-rich "beauty food" sweet potato off your plate and into its Even & Clear Facial Cleanser Collection.
Psst, AMBI is letting you in on a secret with its new facial cleansers: Sweet potatoes are a great way to get glowing, even-toned, and, most importantly, healthy skin.
AMBI has harnessed sweet potato's antioxidant and vitamin power into its proprietary Sweet Potato Complex, which is a component of the new trio of Even & Clear Facial Cleansers. Sweet potatoes are rich in vitamin A, which supports cell growth and reduces the risk of acne, and vitamins C and E, which are antioxidants that protect the skin from UV damage, fight signs of aging, and improve skin texture and appearance. The collection of Even & Clear Facial Cleansers addresses the skin concerns of melanin-rich skin with three formulas: Soothing Chamomile Complexion Facial Cleanser ($5.99) for all skin types, Moisturizing Coconut Oil Cocoa Butter Facial Cleanser ($5.99) for dry and combination skin, and Purifying Charcoal Black Soap Facial Cleanser ($5.99) for oily and combination skin. All three cleansers contain the Sweet Potato Complex but are free of artificial soaps, alcohols, fragrances, and dyes.
I initially chose the Purifying Charcoal Black Soap Cleanser because my skin is oily and charcoal absorbs oil. But then I spoke with complained to an AMBI brand expert, during a media event, about the acne that has been plaguing my skin ever since I began wearing a face mask. She, then, suggested I try the Soothing Chamomile cleanser instead because the maskne was likely the result of friction, oil, and sweat. I'm so happy I took her advice because I'm very pleased with how well the cleanser removes dirt and other impurities from my skin, while calming it with chamomile and renewing it with green tea. My face feels clean but doesn't have that tight feeling that signals all the moisture has been stripped which, then, causes an overproduction of oil. When I do have an occasional breakout, it seems the Sweet Potato Complex, along with other products in my skin care regimen, has been keeping the inevitable hyperpigmentation to a minimum and has been helping the dark marks fade quicker. It's also comforting to know that I can switch to the Purifying Charcoal cleanser in the summer when my skin care needs will change.
Thanks to AMBI, our skin can now reap the antioxidant benefits and nutrients of sweet potatoes even when the tuber isn't on our plate.