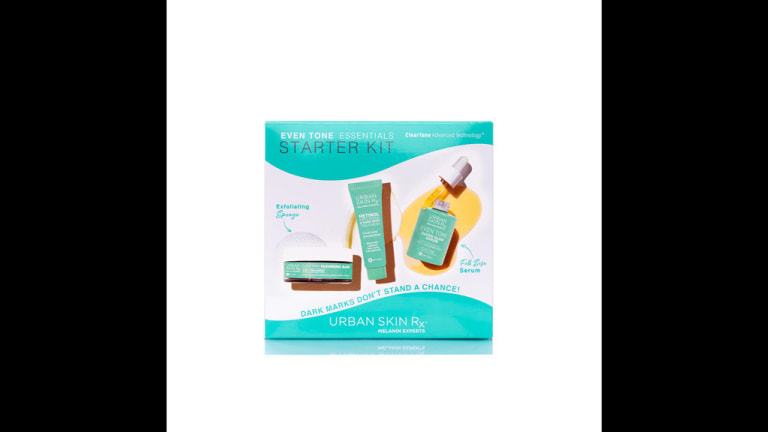 Editor's Pick: Urban Skin Rx Even Tone Essentials Starter Kit
Urban Skin Rx is the "prescription" your stressed, hyper-pigmented skin needs and deserves.
Stress, stress-eating and -drinking, PPE masks, and changes in the season were wreaking havoc on my face. My chin, especially, was breaking out in huge cyst-like pimples and when a zit would finally go away, I was left with another dark mark in a connect-the-dots mosaic. The only good thing was the pandemic lockdown meant I was rarely going outside, and when I did venture out, a mask covered up my blemishes, but that mask also brought about more pimples. Seriously, every time I removed my mask when I was safely back at home, I could feel more zits just under the surface of skin that experienced the most friction and sweat from the mask. Needless to say, my expensive skin care regimen was no longer working and I needed help. Urban Skin Rx came to my rescue when it offered its new Even Tone Essentials Starter Kit ($29.99). And since these products helped me, I'm sharing my experience.
Rachel Roff founded Urban Skin Rx 10 years ago with the goal of offering scientifically researched skin care products to correct acne, hyper-pigmetation, and the effects of aging regardless of the user's skin tone or color. The products are available for purchase at Target, Ulta, CVS, and the Urban Skin Rx e-commerce site. When my cleansing bar ran out, I bought another one through Amazon. (Gotta love Prime!) But I'm getting a little ahead of myself because I haven't explained why I'm a fan of the brand yet.
The Even Tone Essentials Starter Kit is the truth! The kit is comprised of three best-sellers: the 1 oz. Even Tone Cleansing Bar, a full-size Even Tone Super Glow Serum, and the .5 oz Retinol Rapid Repair & Dark Spot Treatment. It's recommended for oily, combination, normal, and acne-prone skin. All three products contain kojic acid and/or niacinamide, along with either azelaic acid, licorice root extract, l-ascorbic acid, ferulic acid, or retinol. When it comes to skin care, though, I'm more of a does-it-work person than a why-does-it-work person.
I love that the cleansing bar comes with a sponge to exfoliate, especially in the little crevices of my face, and makes me feel like I'm putting in some work towards beautiful skin, not just washing my face. In addition, I literally get happy when dropping the serum into my hand just before applying it because I know that glow is coming. My skin seriously became smoother and brighter after I started using the Even Tone Super Glow Serum, so much so that I shared a foundation- and concealer-free, unfiltered photo on the 'Gram and I had to give Urban Skin Rx the credit. My pores also don't appear as large as they have a propensity to.
In addition, the Retinol Rapid Repair & Dark Spot Treatment improved my hyper-pigmentation. Winter wasn't kind to my skin (I suspect I was allergic to the faux fur lining the hood of a new and favorite coat) and I routinely broke out along my jawline. Even though I wasn't wearing the coat during the spring and early-summer, I was left with dark marks that extended along my jaw, up to my ears, and down my neck. Urban Skin Rx took care of that though, and it's barely perceivable that I even had a problem. As I mentioned above, my chin is still a problem area, but I've noticed that the pimples are no longer painful, don't always come to the surface, and don't last long if they do. Also, my skin would experience hyper-pigmentation the minute a zit formed even though I hadn't squeezed or bothered it in some way, and the dark mark would last for what seemed like forever, before I started using the Retinol Rapid Repair & Dark Spot Treatment.
As I mentioned previously, I finished the 1 oz. Even Tone Cleansing Bar that comes in the kit before finishing the serum and dark spot treatment. Fortunately, the cleansing bar is available separately in 2 oz. ($15) and 3.7 oz ($24) jars. I continue to use a 10 percent benzoyl peroxide cream along with the Urban Skin Rx products, but I also pay attention to when my skin may need a break and extra moisture. I've also been more mindful about what's going inside my body, not just on top of my skin. With Urban Skin Rx and more alkaline water in my system, I know that this is a new, clearer chapter for my skin.
If you use Urban Skin Rx too, share that ish on IG using the hashtag #RaiseTheBarAndVote now through Election Day because the brand will make a donation (up to $10,000) to Stacey Abram's Fair Fight organization, in an effort to amplify melanated voices. Fair Fight aims to combat voter suppression among Black and Brown Americans, promotes fair elections across the country, encourages voter participation, and educates voters about elections and their voting rights.