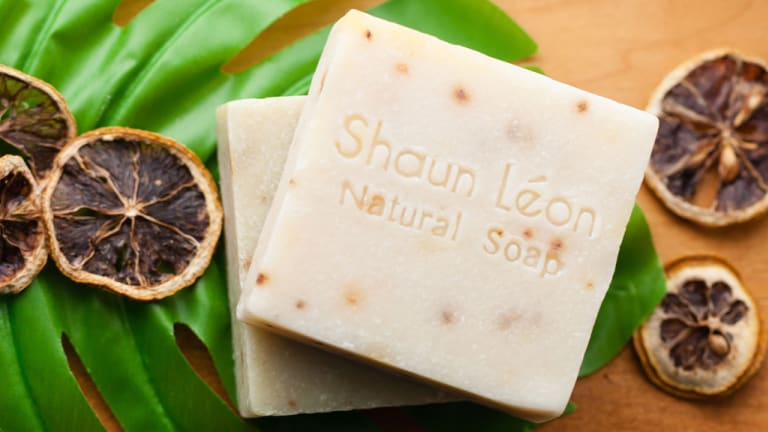 Editor's Pick: Shaun Léon Beauty Is Clean Self-Care
Since skin is our first line of defense, it's important to nourish it with clean cleansers and moisturizers.
True confession time: I haven't had a pedicure all summer because I don't like any of my local nail salons and I'm not comfortable riding New York's public transportation to travel to a salon. So I've been sloughing dead skin and trimming toenails and cuticles myself at-home. One miracle product that has kept my feet sandal-ready is Shaun Léon Beauty's Power Balm, but that's not the only product from this Black woman-owned skin care brand that has secured a permanent spot in my beauty arsenal. Consider this your introduction to Shaun Léon Beauty.
Not only is Shaun Léon a Black-owned business, but it is also the brainchild of a mother-daughter duo, Leona and Shaunya Hartley. The idea was born in the vineyards of Champagne after learning about the families who have decades-long, if not centuries-long, histories and traditions in that area of France. "We said to ourselves, 'You know, we would like to do something like that where it becomes a small artisanal small-batch, family-owned [business] and then grow hopefully into this legacy and enterprise [for] multiple generations to work," Shaunya explained earlier in the summer. "Small-batch" means the Hartleys have complete control over what goes into their products, so you won't find nasties like parabens in Shaun Léon products, which are also gluten- and cruelty-free. Thinking of the tendency of Black women to use grooming techniques that may be harmful to our health and that we die at higher rates from certain illnesses than our white counterparts, they "didn't want to produce a product, as Black women, that would have those components to be afraid of," Shaunya said. Therefore, the products, which are handcrafted in Brooklyn, contain clean ingredients and natural oils and botanicals.
A motto at Shaun Léon is #ashyisachoice because there are a myriad of products in the 11-item range that address dryness and skin health. I've already mentioned the work the Power Balm has put into my feet, but it has also been a relief to my hands, re-plumping my over-washed mitts with a blend of avocado oil, hemp oil, beeswax, peppermint oil, and essential oils. The Power Balm literally melts into my feet and hands, and I've even been known to rub some of the excess into my lips. This is definitely a product to stash around your home during the pandemic and beyond, because healthy skin is our first line of defense against infection.
If you ask the Hartleys which Shaun Léon product is the best introduction to the brand, you'll get different answers, explained Shaunya. She's partial to the Softest Ever Body Oil ($23), whereas Leona is a Softest Ever Body Butter ($19) type of woman. I enjoy the Softest Ever Body Oil for the same reasons Shaunya is a fan: It's lightweight yet moisturizing, leaves the skin delicately fragranced, and encourages cell turnover. There's something really luxurious about slathering on a citrus- or jasmine-scented oil to damp skin fresh out of the shower. I've also found that I can forgo lotion when I've applied the body oil. I can also attest to the cell turnover power of the Softest Ever Body Oil, as I noticed a definite improvement of new scars on my thighs (I have a cat) after adding the product to my grooming routine. It's no wonder women and men love it.
As the temperature dips, though, I have plans to layer the body oil with the Softest Ever Body Butter, Leona's "babies." The body butter is packed with coconut, sunflower, olive, and jojoba oils to hydrate and condition the skin while improving its elasticity. Yet, the Softest Ever Body Butter doesn't leave skin feeling greasy and won't stain your clothes. This skin-saving product is available in two sizes, a 4-ounce mini ($12) and an 8-ounce mega size. The Wild Honeysuckle, Exotic Pear, and French Biscotti fragrances have been big winners in my family, but like the body oil aromas, you really can't go wrong with any of the butter scents, which also include more gender neutral aromas like Earthy Musk.
Another great product that will introduce you to the Shaun Léon Beauty brand — for less than $10 — is the Apothecare Bar Soap ($8). Like the body butter, it contains moisture-rich coconut and olive oils that allow the soap to hydrate your skin while cleansing it. The result is refreshed skin and an elevated shower experience, which I especially welcome in this time of routine during the lockdown. Plus, the fragranced soaps with their blended colors are so pretty to look at, just like the Shaun Léon Beauty French apothecary-style packaging, they deserve to be displayed.
With its Abyssinian Hair Oil ($33), Glow Up Face Oil ($48), Grown n' Sexy Beard Oil ($28), Herbal Bathing Tea ($12), Softest Ever Body Polish ($15/$22), Soothing Bath Salt Soak ($18), Soak n' Chill Bath Oil, and all the products we've discussed already, Shaun Léon Beauty can address your hydration woes from head to toe, literally. You owe it to yourself to yourself to realize #ashyisachoice, one that can be easily remedied with Shaun Léon Beauty.