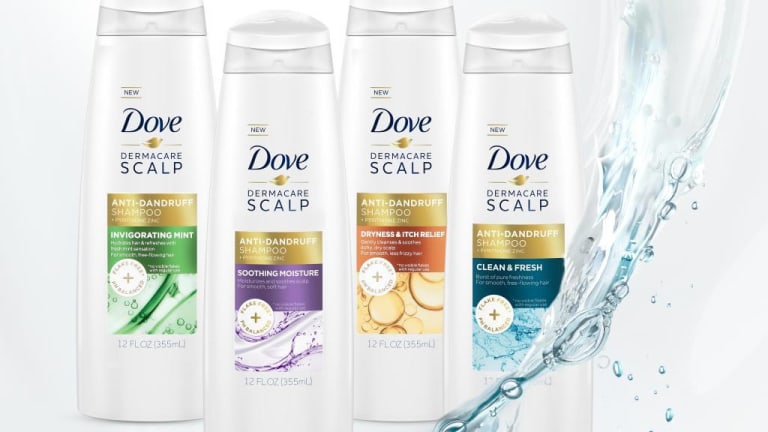 Editor's Pick: Scalp Itching? Dove DermaCare to the Rescue!
The Dove DermaCare Scalp line fights dandruff without compromising the health of your hair and scalp.
Sweat, dandruff, fungus, and product buildup can wreak havoc on our scalps, causing an intense itch and unpleasant odor. A quick scratching session is a welcomed relief, but our fingernails can create more problems for our scalps, namely abrasions and visible flakes. Fortunately, Dove DermaCare Scalp has a remedy for the itch that can plague us, yet doesn't force you to compromise the health of your scalp and hair.
Last month, Dove DermaCare invited me to have a scalp consultation with stylist extraordinaire Ursula Stephen at her Brooklyn salon, The Salon by Ursula Stephen. My main concern, as you've probably guessed by now, is an itchy scalp, so Stephen suggested the Dryness & Itch Relief Shampoo & Conditioner ($6.49 each). These products, like all in the DermaCare Scalp collection, contain active pyrithione zinc, which is the heaviest hitter on store shelves to combat dandruff. They're also formulated with coconut and shea butter to preserve and add hydration to the scalp and hair.
Most shampoos containing active pyrithione zinc are too drying to use daily, however the DermaCare Scalp line is intended for daily use. Each formulation contains ingredients that won't compromise the look and feel of your hair, while caring for your scalp.
While I can appreciate that the Dryness & Itch Relief Shampoo & Conditioner is intended for daily use, I don't have time for all of that, especially with knee-length locs. However, it's been two and a half weeks since my hair was washed and I haven't had one visible flake. There has been an itch here or there, but nothing that has caused me to scratch so hard I broke the skin of my scalp, and that's a major feat for me.
In addition, Stephen's stylist used the Dove Style + Care Curls Defining Mousse to retwist my locs. We were surprised how well the product held my new growth in the twists. The product has a soft hold of 2, on a scale of 1 to 5. "Soft hold" is key because not one loc needs to be retwisted two weeks later (even though I do need to cleanse my hair), my edges are still laid, and my roots are soft, not crunchy, which is the problem with a lot of loc-ing gels.
Recently, Dove DermaCare released a new formulation of its shampoo and conditioner, Coconut & Hydration Shampoo & Conditioner, which leaves your hair smelling of coconut and sweet lime, in addition to caring for your hair. The other products in the line are: Soothing Moisture Shampoo & Conditioner, Invigorating Mint 2 in 1 & Shampoo (another personal favorite), and Clean & Fresh 2 in 1 & Shampoo. And all retail for $4.99, so a hydrated scalp and strands doesn't have to break your pockets.