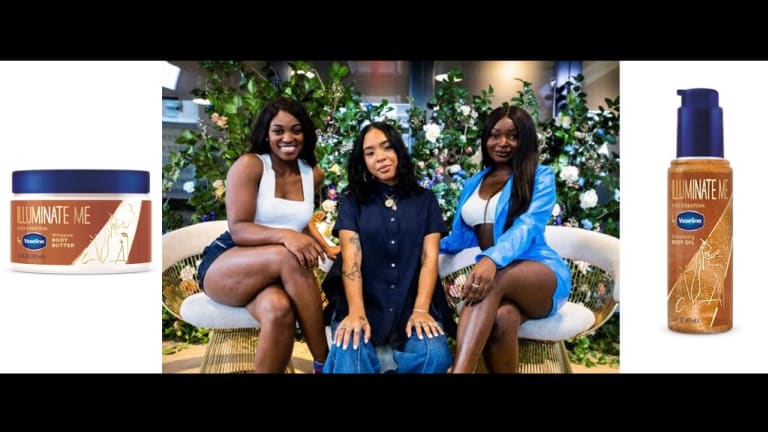 Editor's Pick: Illuminate Me by Vaseline, Co-Created by Black Beauty Enthusiasts
Vaseline has a new body care range that was created with melanin-rich skin in mind.
There's no denying that Vaseline is a beauty staple in many Black households. Sometimes it's the only product that successfully nourishes our melanin-rich skin and banishes the ash. We rub into our lips, cuticles, inner-thighs, heels, and more. Vaseline has certainly gotten the job done for dozens of decades, but this is 2020 and we need products that specifically address the concerns our melanated skin has, while also remaining affordable. With this in mind, Vaseline tapped three influential Black women with completely different lifestyles and an enthusiasm for all things beauty to create the Illuminate Me by Vaseline body care range.
Illuminate Me by Vaseline was co-developed by content creator Shalom Blac, professional athlete Sloane Stephens, and artist Cristina Martinez. Although these women are from the worlds of beauty, sports, and the arts, their life experiences have informed their knowledge of what melanin-rich skin needs and deserves. As a result, they helped create two products, the Illuminate Me by Vaseline Whipped Body Butter (SRP $7.19/$9.99) and the Illuminate Me by Vaseline Shimmer Body Oil (SRP $5.31/$6.99), that provide deep moisturization and skin hydration by employing pure shea butter, sweet almond oil, and pure jojoba oil.
The Whipped Body Butter leaves skin feeling smooth and nourished with pure shea butter, glycerin, and triple-purified jelly, and is available in an 11-ounce tub. The Shimmer Body Oil has a lightweight formula that is infused with almond oil. It also contains mineral shimmer and pigments to illuminate and add extra shine to the skin, especially the décolleté, for a special occasion like a girls' night in or socially distant date via Zoom.
Check out the behind-the-scenes video of Shalom, Sloane, and Cristina co-creating the Illuminate Me range with Vaseline below, and learn why Vaseline chose this group of extraordinary Black women to produce this rare beauty range below.
Shalom Blac is a burn survivor who turned to YouTube as an outlet where she could challenge herself to produce her own series of makeup tutorials. Shalom's story is a true inspiration to many and has proven the YouTube community can be positive, healing and inclusive. All things that embody why Illuminate Me was created.
Sloane Stephens is a professional tennis player who ranked in the top 25 in the Women's USTA and also won in the US Open 2017. Beyond tennis she is known for her interest in beauty, fashion, and lifestyle. A perspective that helped contribute to the creation of Illuminate Me.
Cristina Martinez got her start in fashion where it quickly became clear that storytelling through the illustration process was her true calling. Cristina's work highlights Black and Brown women and the importance of their strength and growth, making her the perfect visionary and artist to design the Illuminate Me packaging. (Cristina also recently collaborated with Mattel on the now-sold out Cristina Martinez X Barbie Artist Print Signature Edition, which reimagined what the original Barbie doll would've looked like if she had been available in a range of Black and Brown hues.)
The Illuminate Me by Vaseline product range is available at select mass retailers, including Target, Amazon, and Walmart, which appears to be the only retailer that currently has the Whipped Body Butter and Shimmer Body Oil in stock for a decent price. Learn more here.