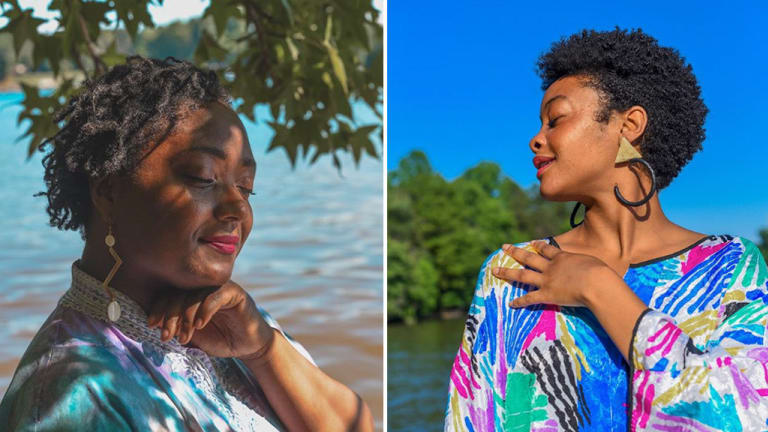 Editor's Pick: Elizabeth In Pearls Handmade Jewelry
This is your introduction to the Black woman-owned and -designed jewelry brand Elizabeth In Pearls.
Elizabeth In Pearls is a 7-year-old accessory brand that caters to people who enjoy wearing eclectic, small-batch, handmade jewelry that enhances their personal style expression.
All Elizabeth In Pearls jewelry is designed and executed by Kimberly Turner (above, left), who has been creating jewelry for more than 20 years. I bet you were expecting the designer/owner to be named Elizabeth. Actually, the name Elizabeth In Pearls is an homage to Turner's late grandmothers Elizabeth and Pearl, who Turner affectionately called Grandmommy and Ma Pearl, respectively. Honoring her ancestors is such a way of life for Turner — as it should be for us all — that she has titled her latest collection "Love Letters" and the accompanying campaign "Love Letters from Our Ancestors." All the pieces in the collection are named after attributes and characteristics our ancestors may have used to describe us in their love letters and may have used as their love letters or love words.
The collection definitely has an Afrocentric and Afrofuturism feel, as Turner often features cowrie shells, hammered metals, geometric shapes, wood, fabric, and colorful beading in her jewelry designs. Turner says her process for creating is different than one would expect. She doesn't design on paper, but lets the materials "speak to one another and her," instead.
Some favorites from the Love Letters collection include, but aren't limited to, "The Storm" shell and brass necklace ($38), "Vibrant" half-hoop earrings ($42), "Sunshine" beaded earrings ($38), "Power" triangle and half-hoop earrings ($48), and "Overflow" cowrie shell earrings ($40). In addition, Turner also included cotton T-shirts that speak to the purpose and theme of Love Letters: "We Are the Love Letters" ($34), "I Am the Vessel" ($34), and "God & My Ancestors" ($34). Elizabeth In Pearls pieces can be the punctuation on a simple jeans and tank outfit, enhance a special occasion look, or add something special to loungewear.
Through the "Love Letters from Our Ancestors" campaign, Turner is encouraging supporters to write a love letter to themselves, a friend, a relative, a significant other, or someone who has passed on. Turner says it's an opportunity to spread love.
"It is important to show love and see that our ancestors passed so many beautiful things down to us," said Turner when describing the campaign's purpose. "We are here and will take up space, be present, create, and continue to do what we need to in order to grow and make change."
UPTOWN invites you to watch the Love Letters from Our Ancestors film, shop Elizabeth In Pearls, and follow Elizabeth In Pearls on Instagram. And remember, there are only small batches of each Elizabeth In Pearls piece, so if you like something, you must act quickly to make it yours.