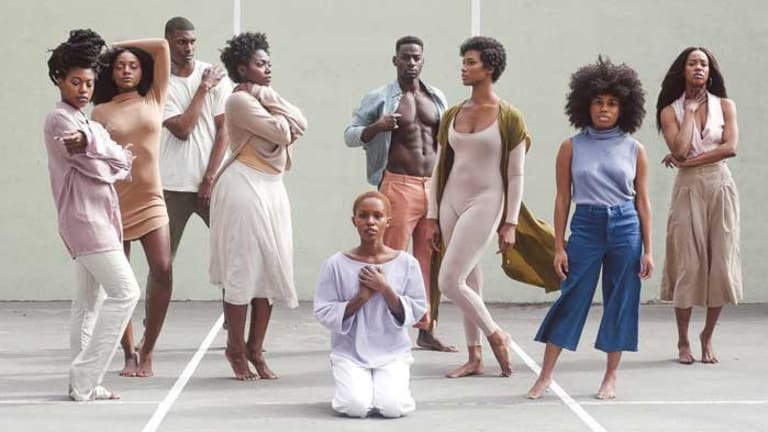 Editor's Pick: Effective, Affordable Natural Hair Care? Yes, Please.
On a budget or just don't want to break the bank on hair care? These products are for you!
Caring for natural hair can cost Black women and men years of trial and error as they try to figure out the perfect combination of products to cleanse, condition, moisturize, and shine. And even when they find a "Holy Grail" product, it might not mesh well with all the other creams, gels, or oils in their routine. (If you've ever finished your hair and noticed little white balls beading up on your hair, then you know what I'm talking about.) But naturalistas need not worry any longer because Suave has come to their rescue with the new Suave Professionals for Natural Hair collection.
The six-product collection includes the Sulfate-free Cleansing Shampoo, the Moisturizing Curl Conditioner, the Nourish & Strengthen Leave-in Conditioner, the Curl Defining Cream, the Define & Shine Serum Gel, and the Cream Detangler Spray. Each is free of sulfates, parabens, and dyes, and infused with raw shea butter and pure coconut oil, which are the heavy hitters of moisturizers in the natural hair community. Suave knows not to mess with what isn't broken.
Speaking of the natural hair community, Suave also collaborated with 5,000 naturalistas to craft, test, and adapt the formulas of each product. What other hair care brand has gone that far to address the concerns of caring for and styling kinks, curls, and coils? (I'll wait … ) In addition, each product is meant to work with the others in the collection, so you won't be plagued with product build-up once you're done styling your hair.
But it doesn't really matter how well a product performs if most people can't afford it. The Suave Professionals for Natural Hair collection may have the word "professionals" in its name, but it has a price point tailored for a woman or man on a budget. Each product only costs $4.99! That's long-lasting moisture, gentle hair care, and quality products for less than $5 at your local drugstore or mass retailer.
My Verdict:
Since I have thigh-grazing locs, some of the products in the collection, like the Cream Detangler Spray and Curl Defining Cream, don't deliver the outcome necessary for maintaining my hair. (Fingers crossed that hair care brands realize someday that all natural hair isn't loose.) But I absolutely love the Define & Shine Serum Gel which adds a beautiful sheen to my hair that lasts several days without reapplication. I'm also a big fan of the shampoo and conditioner, mainly because my hair takes A LOT of product and these are effective yet won't break my bank. I also appreciate that both the shampoo and conditioner are in a pump bottle, which is really convenient when washing my hair in the shower.