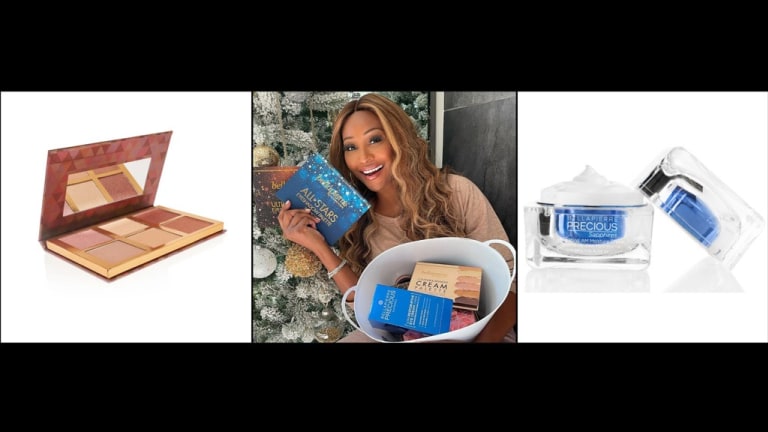 Editor's Pick: Cynthia Bailey Holiday Beauty & Skincare Collection
Cynthia Bailey's BellaPierre makeup and skincare is the perfect gift for yourself, a loved one, or a colleague.
Cynthia Bailey is providing fans and makeup and skincare gurus with everything they need to create a beauty look that is as festive as the holiday season, via her new site CynthiaBaileyHoliday.com.
The cosmetics and skincare are by BellaPierre, which is known for its naturally-derived ingredients that do not contain talc, parabens, bismuth oxychloride, or other harmful substances, according to its website. Wearers of BellaPierre feel confident in the brand's pigmented eyeshadows, blushes, lipsticks, and eyeliners, so there's no wonder why it has received the Cynthia Bailey stamp of approval.
This holiday season is very different than any other we've experienced, but that doesn't mean you shouldn't serve good face even if you're not physically with your loved ones. You still want to look good on Zoom and social media, right?! And if you're able to safely venture out for a holiday party, you're going to want to draw attention to your eyes, instead of your PPE mask.
Speaking of eyes, that's a perfect place to start when creating your Cynthia Bailey-esque holiday look. Let us recommend the All Star Eyeshadow Palette ($35) or Emerald City Eyeshadow Palette ($35) that feature 35 highly-pigmented color eyeshadows in a range of matte, satin, shimmer, and foil finishes that glide on buttery smooth. If you like more of a neutral eye, then opt for the Ultimate Nude Eyeshadow Palette ($35) or the Brown Eyed Girl with Eyeliner Brush bundle ($24.50). You can also amp up any eye look with the Shimmer 9 Stack with Eyeliner Brush bundle ($55). Make sure you don't forget your eyebrows, though, because we all know the eyes are the window to the soul and the brows are the curtains. CynthiaBaileyHoliday.com has the StayPut Brow Gel ($17.50) and the Twist Up Brow Pencil ($14) for the job.
Now that we've covered eyes, let's focus on prepping your skin. The Hydrating AM Moisture Cream ($59.70; usually retails for $199) is a daily moisturizer that is infused with diamonds and contains coconut oil and vitamin E. It leaves skin soft and supple without that dreaded greasy feel. Follow that up with the HD Makeup Primer that addresses dryness, fine lines, excess oils, and enlarged pores, making your complexion fresh and flawless and ready for foundation or the Liquid Gold Duo ($35) that is a shimmery gold-dipped glow as a highlighter or mixed into foundation. If liquid highlighter scares you, never fear because CynthiaBaileyHoliday.com has two powder highlighter palettes that contain six shades each, Glowing Palette ($35) and Glowing Palette 2 ($35). Give your cheeks a healthy flush with the Loose Mineral Blush with Kabuki Brush ($37.50) that is available in four creamy shades. The best-selling Kabuki Brush evenly distributes products, and is made of 100 percent synthetic fibers so its cruelty-free and won't shed while you're applying makeup.
Complete your holiday look by accentuating your pout with the Kiss Proof Lip Crème Duo ($28), which delivers full-coverage and high-impact in liquid form. If you're more of a natural lip person, then the Super Lip Gloss Trio ($37.80) is for you. It's formulated with jojoba oil, beeswax, and vitamin E and delivers silkiness and shine that isn't sticky.
CynthiaBaileyHoliday.com offers a lot more makeup and skincare that is the perfect gift for yourself, a loved one, or colleague.