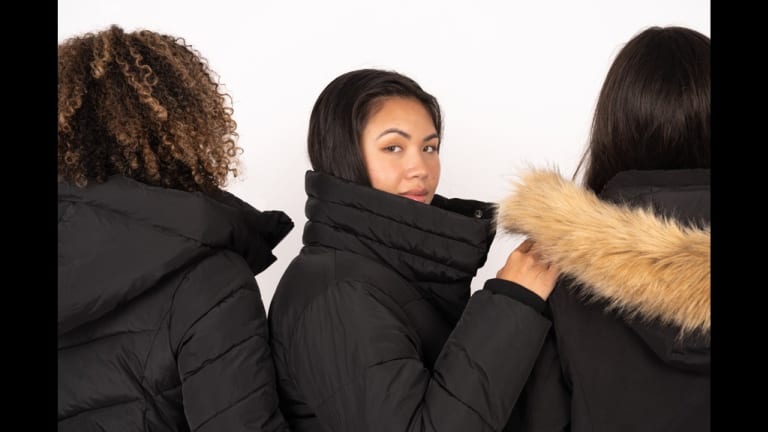 Editor's Pick: 4 Reasons Harper Coats Puffers Are a Win
Here's why you're going to appreciate an introduction to the NYC-based, newly-launched Harper Coats puffers and parka.
If you catch me outside during the winter, I'll likely have on a wool coat and a couple of layers underneath. But as someone who grew up in the Northeast and still lives here, I've learned that no cold-weather wardrobe is complete without a puffer jacket. That's why I was ecstatic to be introduced to Harper Coats puffers and was completely sold the first time I wore The Brunch Puffer ($250). Here's why …
Growing up, I was taught that a puffer or bubble jacket had to be down-filled to be warm, but when you really think about it, geese and other birds probably aren't giving up their much-needed feathers willingly. While I don't want to know exactly how down is collected, I can assume that some cruelty is involved. Harper Coats, which launched just last month and includes The Uptown Puffer ($300) and The January Parka ($350) along with The Brunch Puffer in its collection, is PETA-approved because it's a cruelty-free and vegan outerwear brand. Yet, the 100 percent polyester fill makes the coats and jackets extremely warm. I was able to forego wearing multiple layers while donning The Brunch Puffer. I usually would've added a Uniqlo Heattech under my sweatshirt, but I'm glad I didn't because I would've overheated.
Speaking of the 100 percent polyester fill, all Harper Coats are machine-washable, which is a game-changer to me. I once spent upwards of $30 dry cleaning a down parka ahead of a ski and snowboarding trip in Val Thorens in the French Alps. That parka has since been donated because it was too expensive to keep clean. In addition, Harper Coats have a durable construction, so you don't have to worry about the whirling of the washing machine ruining it. Plus, the outerwear can also be tumble dried, on a low setting, of course.
Harper Coats uses a direct-to-consumer operating system, so there aren't any retail markups passed on to the consumer like we've come to expect while shopping luxury department stores. All the coats and jackets are priced at $350 or below. That may seem like a lot to some folks, but consider that The Brunch Puffer, The January Parka, or The Uptown Puffer will likely be the last puffer you'll ever need to buy because of its timeless design.
Another game-changing feature of Harper Coats is the oversized cocoon hoods and extra-wide collars that won't brush against your face or makeup and won't ruin your hair. The design also makes it comfortable to wear earrings, accessories, and ear buds. This feature is really what sold me on trying The Brunch Puffer because I had the unfortunate experience of being allergic to the faux fur along the hood of a new coat last winter. It caused me to break out in blackheads and cystic acne that didn't completely heal until I started using the Urban Skin Rx Even Tone Essentials Starter Kit.
Other aspects of Harper Coats that set it apart in the style and warmth departments are the ribbed storm cuffs, fleece-lined internal and external pockets, and the diamond-embossed faux fur lining that makes the coats as chic inside as outside. It's also worth noting that the jacket I own did not weigh down or fatigue my shoulders while I wore it.
"At Harper, we believe everyone deserves to feel warm, cozy, and stylish at an affordable price, but without sacrificing sustainability or impact," said Harper Coats CEO Rachel Thaw in press materials. "Harper Coats are made using the same timeless designs as your favorite labels, but we've swapped sustainable direct-to-consumer operations for luxury retail markups, and opted for PETA-approved, eco-friendly, machine-washable materials over animal-based textiles or fill."
Choosing Harper Coats is a no-brainer, but you will have to decide which style and color — ivory, black, or olive — suits your lifestyle best, whether you live in loungewear, suits, or dresses.