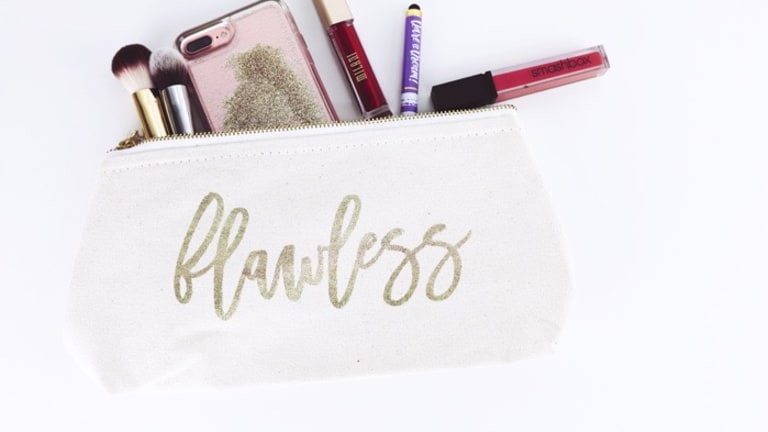 Editor's Pick: 2 Holiday Party Beauty Hacks
These holiday party beauty hacks from KISS will put the punctuation on your most festive look!
Along with being Giving Tuesday, today also signifies the official start of the holiday party season, now that the Thanksgiving leftovers have been eaten and the guests have made their departures, of course. The goal of every holiday party look is festive, festive, festive! But few of us have the time or desire to put in a ton of prep time, and you don't have to. Simply look to KISS cosmetics brand for two holiday party beauty hacks to accentuate your eyes and fingernails.
KISS is revolutionizing the eyelash game with its Magnetic Lash, which is glue free so it's fuss-free. The magnets are strategically placed along the lash band to create a tight hold that lasts all day. (I wouldn't recommend this, but I actually slept in a pair of the demi lashes that stayed put through the night.) The lashes are easily applied using the EZ Load Rotating Lash Applicator, which is "designed to attract, hold, and position" the magnetic lashes on your own, according to press materials. I found the applicator useful when applying the lashes to my right eye, but learned another technique for the left eye from the KISS beauty team: Lay the top magnetic lash on top of your natural lash, and then using your left hand, bring the bottom magnetic lash up to your eye and fix it to the upper lash. No matter the application technique, you'll hear a couple of clicks when the magnets have connected. The lashes are available in four styles at KissUSA.com and retail at Walmart.com for $11.88 for a single pack. Now you have no reason not to bat your eyelashes until a companion joins you under the mistletoe.
Psst! Did you know this holiday season a festive manicure featuring nail art and texture doesn't have to break your gift giving budget? Fortunately for us, imPRESS collaborated with alice + olivia designer Stacey Bendet on the limited edition alice + olivia x imPRESS Press-On Manicure Collection. The collection features six striking nail designs inspired by Bendet's designs and garments. These definitely aren't your mom's press-on nails. imPRESS has a patented SuperHold Dual-Layer Adhesive that is glue free yet secure. (My nails stayed on for more than a week without budging.) For just $7.99 and in just minutes, you can have a piece of alice + olivia that's sure to get you noticed while sipping your eggnog and bubbly. My fave style is "Stace Face," but I also plan to mix and match with "Boss Babe" and "Always Right." The alice + olivia x imPRESS Press-On Manicure Collection is available at imPRESSManicure.com and in select alice + olivia boutiques.