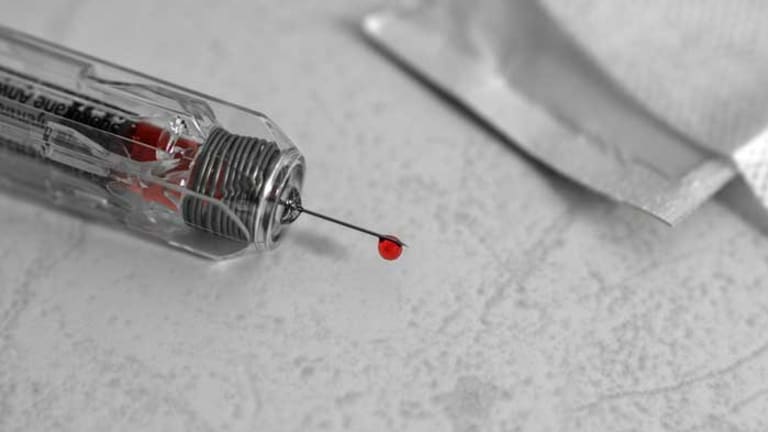 DOH Warns of HIV Risk from 'Vampire Facial'
The quest for eternal youth via an unsafe Vampire Facial could lead to an incurable infection, says health officials.
If you're a reality TV fan, chances are you've witnessed a Housewife, bawse lady, WAG, or D-list celebrity get a "Vampire Facial" in the quest for eternal youth. Supposedly the facial brings regenerative powers to the skin by transferring the patient's own blood platelets to the facial skin. But before you head to Groupon for a discount voucher on the procedure, consider the tale of two people who attended a disreputable spa in New Mexico where they likely contracted HIV.
The New Mexico Department of Health announced on April 29th that the two cases of HIV most likely resulted from the injection-related procedures at the now-defunct VIP Spa. The two people will have a lifetime of suppression therapy now.
Along with reality TV stars, upper-echelon celebrities are also fans of the Vampire Facial, but it must be performed under extremely sanitary conditions because, well, blood and open wounds. During the procedure, blood is drawn from the client and separated into platelets. Then, the facial skin is punctured with micro-needles and the aesthetician applies the platelets to the face. But the DOH warns that the procedure must be done properly and with sanitary equipment.
The New Mexico Regulation and Licensing Department, Barbers and Cosmetologists Board and inspectors from the health department discovered last year unsafe practices at VIP Spa that risked exposing clients to blood-borne diseases like HIV and hepatitis B and C through cross-contamination between clients. Authorities closed the spa on Sept. 7, 2018 immediately after the investigation.
Cellular Medicine Association says on its official Vampire Facial website that the procedure is safe when performed correctly. VIP Spa wasn't a certified provider, says the organization, reports the New York Daily News.
Although HIV suppression treatment can keep the virus undetectable and prevent transmission to partners, the cost of daily medication can total in the hundreds of thousands over a person's lifetime, according to the Daily News.
The New Mexico health department is advising anyone who received needle-based cosmetic services between May and September of 2018 to get tested for HIV, hepatitis B, and hepatitis C. They're also urging fans of cosmetic services that involve needle injections to verify that a licensed medical practitioner is administering the procedure.