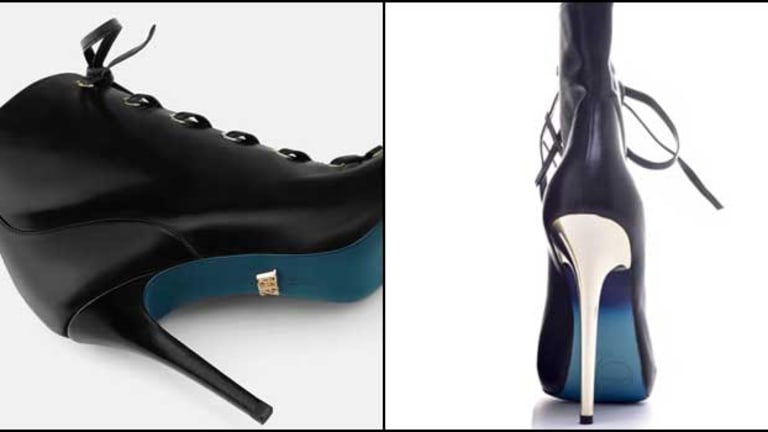 Did Zara Knock-Off Stella Hues Shoes?
Zara's shoe design shares many similarities with Stella Hues' Nicolette booties, right down to the ocean blue sole.
Zara is known for producing fast fashion that is on-trend, chic, and affordable. If there's a luxury designer item that becomes an "it piece" of a season, you best believe Zara will have a version at a price-point that is available to the masses. But there's a seedier side to the world of fast fashion — knockoffs.
Taking inspiration from a luxury design house may seem like a victimless crime, because those who can afford a high-end item will likely buy the original not an inspired version, so the brand might not actually experience a loss. But consider for a minute the small-business fashion designer who is building her clientele and branding her creativity. Knocking-off her designs takes food out of her mouth, sullies her brand, and could lead to the shuttering of her company.
All of these things went through my mind when I peeped Zara's Blue Collection Lace-Up Leather Ankle Boots back in January. They looked very similar to the Stella HuesNicolette booties to me. However, I was unsure of the protocol for informing a friend/acquaintance that Zara is selling a shoe very similar to her original design. Fortunately, I wasn't the only one who noticed.
I recently caught up with Stella Hues designer Stella Maze to discuss how she learned about the similarities between the Blue Collection boots and her Nicolette booties, how she learned about the similarities, how it makes her feel, and more.
What's the history of the Stella Hues Nicolette shoe?
Stella Maze: The Nicolette bootie was created in 2013. I came up with the design in NYC, while having dinner with a mentor and on a Skype conference call with my other mentor. I was inspired by a TV show called La Femme Nikita. I pictured the booties being badass like the main character of the show, but still very girly and flirty. The bootie launched officially in 2016 at Stella Hues Bleu Valentine Pop Up shop at Bo Concept in SoHo, NY. The bootie has been featured on ThinkPynk.com, StylingOnABudget.com, and Lucky Mag Online. [And UPTOWNMagazine.com: "Tracee Ellis Ross is Taking Stella Hues to the AMAs"]
How were you made aware Zara is selling a shoe very similar to yours?
SM: I was online shopping at the end of December with a friend and she came across the blue collection being advertised on Zara[.com]. I checked it out for myself and that's when I came across the description which included the words "ocean blue leather soles." Also, I have received multiple DMs on my social media channels from my strangers and supporters of mine.
How did it make you feel to see this?
SM: At first I was shocked, but then I started to become concerned. I felt pretty upset and disappointed. I previously dealt with a similar situation concerning one of my heels a few years back, and it felt frustrating to be feeling those same emotions again. It's not a good feeling to see your work get manipulated and used by other people.
What's your next step? Will you take legal action against Zara?
SM: Regarding legal actions, our legal team is currently looking into all the possible options available to us. For now, I'm just going to keep focusing on creating great products and letting my work tell the story.
While we can't say for sure that Zara copied Maze's Stella Hues design, the similarities, like the lacing, and gold grommets, are too glaring to ignore. The biggest similarity between the two shoes is the blue sole, which is a detail featured on all Stella Hues shoes. According to the company's website, "the patented hues of blue" on the soles was inspired by the "translucent blues of the Caribbean waters" surrounding the British Virgin Islands, which is where Maze is from. She "spent most of her youth navigating the shimmery blue waters of the British Virgin Islands assisting with the family business" of fishing, according to the bio on the site. So Stella Maze, who was born Athnia Wendy Jack, is very familiar with ocean blue.