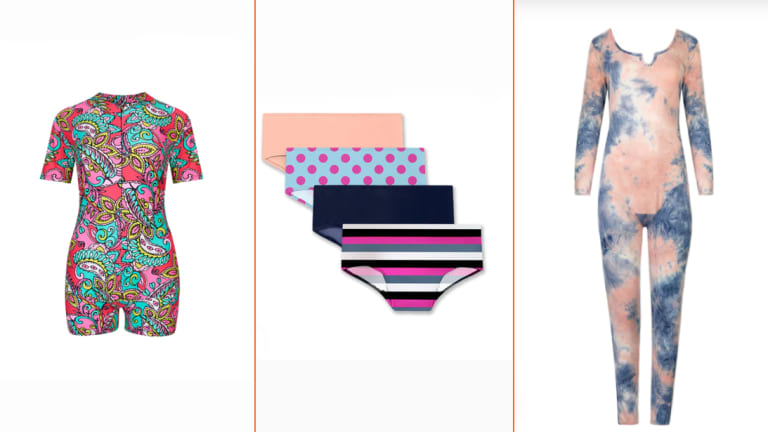 Crystal Etienne's Ruby Love Is Taking the Shame and Secrecy Out of Periods
Ruby Love is a line of period apparel that employs patented technology to ensure comfort, fit, and security so women and girls never have to miss out on life.
You know what no one tells you when you first start going through puberty? That dealing with your period could take years, if not decades, of trial and error as you figure out what works for your level of flow, what's comfortable for your body, and how to navigate the emotional and physical rollercoaster menstruating can be. One thing you do learn quite early on is that menstruation is taboo and society is extremely uncomfortable with discussing it. This might explain why the designs of tampons and sanitary napkins have been virtually unchanged for decades. Rather than accept that her daughter would be forced to use products that are uncomfortable, fail, and contain chemicals, Crystal Etienne set out in August 2015 to create healthier, safer, and easier options for menstruating individuals of all ages and genders. On December 5, 2015, Etienne launched PantyProp, a line of smart period apparel that earned six-figures in sales in its first year of business and over $1 million in its second year. 
Etienne spent years as her brand's guinea pig developing the design, technology, fit, and, most importantly, security of the period wear. She tested hundreds of prototypes and tweaked their designs, and has since developed patented technology to collect periods. PantyProp quickly grew beyond the realm of period underwear. It also underwent a rebranding and relaunch as Ruby Love on June 11, 2019. ("Ruby" denotes your period, a timeless gem symbolizing health and growth, while "Love" represents the brand's commitment to deliver the highest level of care.) The line now includes apparel and products – underwear, swimsuits, bodysuits, leggings, sleep bottoms, and reusable pads – in sizes teen to 8XL to address any activity that may arise while you're menstruating. 
Along with helping women and teens care for their bodies while they have their period, Etienne has also committed Ruby Love to dispelling the stigma and secrecy associated with menstruation. UPTOWN discussed with Etienne, via email, about why women are seeking out more modern period products, tools for discussing their bodies with girls, and period poverty. The mother of two, wife, and venture capitalist also reveals the lessons she learned as an entrepreneur.
Why do you think people who menstruate are seeking out new means for dealing with it besides tampons, sanitary napkins, and cups?
Crystal Etienne: Consumers are asking more questions than ever before. Conversations that were once considered taboo are now happening in the open, including talking about periods and women's health. Females are experiencing their first period earlier and, for some, tampons may not be the best option. Many products include plastics and other materials that are not good for the environment. Whether you use Ruby Love period apparel on its own, add in one of our reusable pads, or use our products for an additional layer of protection with a tampon or sanitary napkin, it is up to the individual. We are not "anti" any products for people who menstruate. We support finding the best solution that supports a worry-free and stress-free period. We believe that periods should never stop women from doing, being, and going.
Do you think the stigma associated with periods will ever cease? In general, people tend to avoid someone who is bleeding, regardless of where the blood is coming from?
CE: Times are certainly changing. Menstruation has existed from the beginning of time and, without it, we would cease to exist as a species. Taking the secrecy and shame out of the topic is more important than ever. Ruby Love created a First Period Kit as a one-of-a-kind experience to transform the conversation between a parent and their child to an educational and memorable experience. We believe education and talking about periods openly is the best way to bring about change.
Unfortunately, period poverty continues to be a real issue in parts of the world. So many cannot afford the basic necessities when it comes to menstruation – pads, tampons. And, even worse, some cultures shun those on their period and make them feel shameful. Period poverty exists worldwide, even in the United States. This past Menstruation Health Day, Ruby Love donated our product and educational materials to support an organization in Florida that brings education to young girls in low-income communities. It's important to give back and start to change the narrative around periods and women's health. 
How would you describe the typical Ruby Love customer? Have Black women been receptive to the product, considering that menstruation is rarely discussed, and tampons are taboo to some?
CE: My motivation at the beginning was knowing that teens and tweens were being ignored. When you first get your period you should start learning about your body. As mentioned, the Ruby Love First Period Kit and our teen apparel was designed with this market in mind. The moms of these teens and tweens are our core. Over the years, the moms and menstruating community have also become part of our customer base. As a Black, women-owned business, Ruby Love has certainly attracted Black women to become customers and advocates for our product and brand. And, as a brand, we do not shy away from the tough questions and being vocal about menstruation. Our blog touches on every subject imaginable when it comes to women's health and menstruation. 
How did you grow your idea for Ruby Love into a full-fledged company? What advice would you give to someone who has an idea but doesn't know what step to take next?
CE: I created Ruby Love (formerly Panty Prop) in 2015. Our technology (plastics-free gusset) was born out of my frustration with sanitary napkins and the lack of options women had when they had their period. My idea is now patented technology. There is no big secret when it comes to being successful. It's all about staying focused, thinking big, and not letting others get in the way. Today we have a full line of smart period apparel – underwear, swimwear, sleepwear, activewear – and, recently we launched Ruby Love Athletics. And, we offer sizing from teens to 8XL.
For those looking to take their solution to market, I have this advice. You have to put on many hats. You have to know when to say no. You have to know when to only spend on what is necessary. And you have to key in on what is the most important aspect of your business. And I know it sounds easy to say, but it's so hard to do when you are trying to do everything.
What are some things you wished you'd known about securing funding before trying to grow your business?
CE: Within two years of bringing the period panties to market, Ruby Love surpassed $1 million in sales. We added to our product line – period-proof swimwear, activewear, and pajamas. We were profitable but we needed money to grow to $10 million in sales and more. I had reached out to investors in the past and received no response. Nothing. I had three strikes against me: I'm a woman, I'm Black, and I'm selling direct-to-consumer. At the time Black women led less than five percent of the nation's startups. And, even more frustrating, Black women received well under one percent of venture capital funding each year. Add to the list of challenges that Ruby Love focuses on period products. I wish I had recognized these challenges earlier in the process. What did I do?
I decided to join an incubator to develop the necessary pitch to share the vision and opportunity with Ruby Love. My pitch included detailed information about my customer, the market, and my plan to grow. When investors see a strong return and dollar signs, they give you the money. With one investor interested, others flocked. In July 2019, Ruby Love closed a $15 million financing round. 
What are some of the pitfalls you see other entrepreneurs falling into?
CE: Entrepreneurs need to watch out for many things but the number one pitfall is not believing in yourself and your idea. Passion is key. Not thinking big (or) thinking only about the paycheck.
When I first started, I never thought the company would get to where it is now and that's a flaw within myself as being a Black woman and every Black woman I come across. I tell other entrepreneurs to think bigger. Investors are looking for unicorns and unicorns are not real, but are they really real? That's when you have to see yourself and say, "I am that unicorn."
What are your goals with your venture capitalism firm CaJE?
CE: In 2021, my husband and I launched a new era venture capital brand, CaJE. The objective behind this venture is to support Black women founders and provide the financial support they need to build scalable businesses. We knew we were doing something that would make a difference from the amount of feedback and interest we received. We were expecting a handful of submissions; however, within a week we received hundreds. We offer these businesses mentorship and funding. Our hope is to build new generations of wealth that will carry on to future generations.