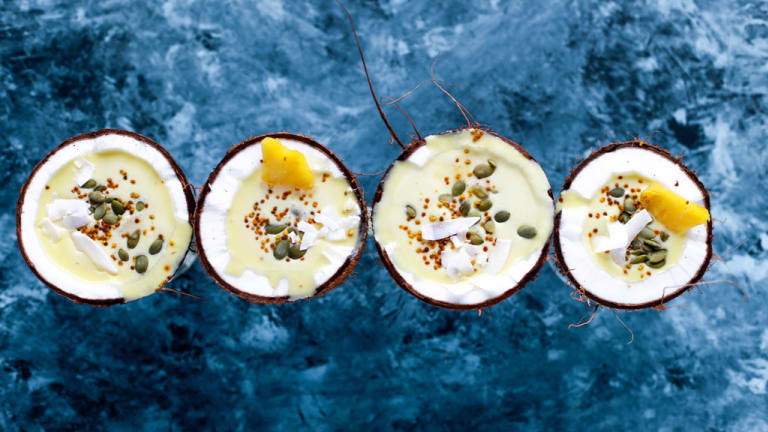 Celebrate National Piña Colada, Mojito, and Daiquiri Days [COCKTAIL RECIPES]
Bring the taste of the Caribbean to your home with these rum-based cocktails.
The summer is the best time of year to experience rum-based cocktails like the piña colada, mojito, and daiquiri. Since rum is made from sugar cane, it blends well with the sweet, fruity, and refreshing ingredients we crave in the summer. It's the spirit of the Caribbean for a reason, you know. So this National Piña Colada Day (July 10th), National Mojito Day (July 11th), and National Daiquiri Day (July 19th), bring the taste of the Caribbean to your home with three BACARDÍ Rum cocktails.
BACARDÍ Frozen Piña Colada
Ingredients:
2 parts BACARDÍ Coconut Flavored Rum
1.5 parts Coco Reàl
1.5 parts pineapple juice
1 cup ice
Garnish: pineapple wedge and cherry flag
Method: For the single-serve recipe, combine all ingredients in a blender, and blend until a slushy consistency forms. Garnish with a pineapple wedge and a cherry flag.
BACARDÍ Lime Mojito
Ingredients:
2 parts BACARDÍ Lime Flavored Rum
4 lime wedges
6-8 fresh mint leaves
2 tbsp Caster Sugar
1 part club soda
Method: Add the lime wedges, sugar and mint leaves and gently muddle until the limes release juice. Add BACARDÍ Lime Flavored Rum and mix the ingredients with a bar spoon. Fill with crushed ice and stir once again. Add club soda and garnish with mint.
BACARDÍ Daiquiri
Ingredients:
2 parts BACARDÍ Superior Rum
1 part freshly-squeezed lime juice
2 tbsp sugar
Method: Place sugar and freshly pressed lime juice into a cocktail shaker and stir until the sugar has dissolved. Then pour in the BACARDÍ Superior rum and fill the shaker with half-cubed ice, followed by some half-crushed ice. Place the lid on the shaker and shake vigorously until thoroughly chilled. Finally, strain through a fine tea strainer into a chilled coupette.