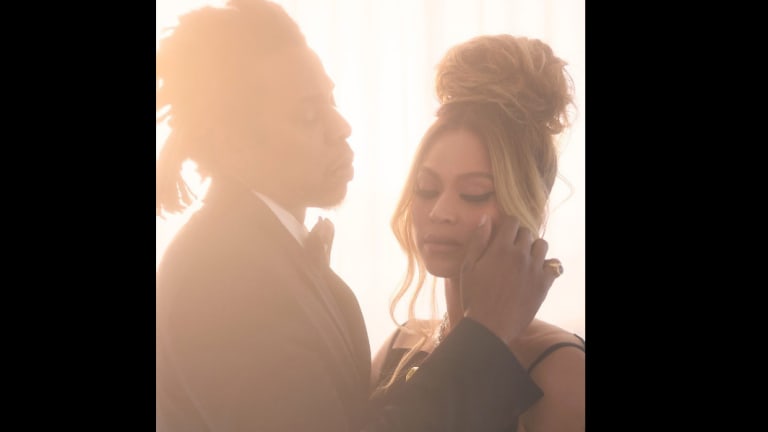 Blue Ivy Crashes Beyonce and Jay-Z's 'Date Night' in Tiffany & Co Ad
Blue Ivy Carter steals the show from her parents Beyoncé and Jay-Z in a confusing new advertisement for Tiffany & Company's "About Love" campaign.
Blue Ivy Carter adorably crashed Beyoncé and Jay-Z's "Date Night" in the power couple's new Tiffany & Co. ad for the "About Love" campaign.
It's not altogether clear in the video, but it seems Blue Ivy is playing a street urchin (think little orphan Annie or Charlie Chaplin's The Kid) who joins Jay and Bey on their chauffeured car date, complete with New York-style pizza, champagne, and, of course, Tiffany jewelry, sunglasses, and glassware. While the adults are dressed to the nines, even though they're only spending time in a vehicle, 9-year-old Blue wears an oversized Breton stripe shirt and clear glasses. Blue first appears in the ad running behind the car as it cruises around Manhattan, and then hops in to cuddle a cute dog and snuggle between Beyoncé and Jay-Z.
The ad begins with Beyoncé riding alone in the car, questioning whether "he loves me or he loves me not" as she plucks yellow petals from a flower. Then, she tells the driver to pull over to pick up Jay, who later suggests they need pizza and champagne. However, it's confusing why the driver doesn't know to pick up Jay without Bey's prompting and where he thought she was going if not on a date. By the end of the video, Jay confirms that he loves her, as the couple cuddles to Paul Anka's "Put Your Head on My Shoulder." By that point, Blue Ivy and the pooch have disappeared only to re-appear at the end.
It's all very confusing, especially the behind-the-scenes clip that comes out of nowhere near the middle of the ad. One thing is for sure, Blue Ivy certainly stole the show from her parents and the Tiffany & Co. wares, which should surprise no one.