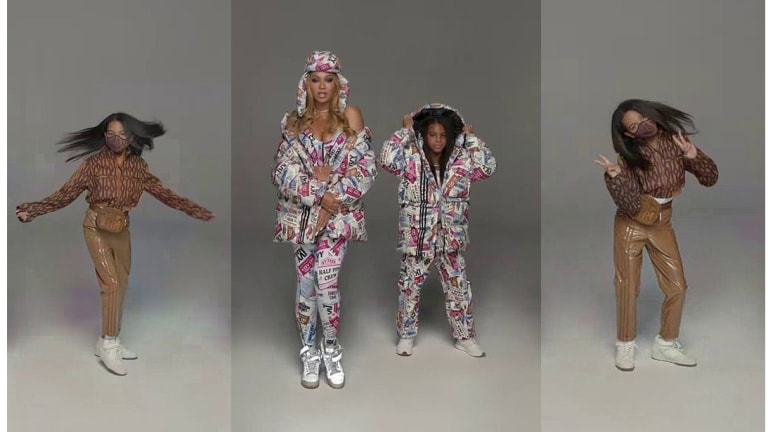 The Best Reactions to Blue Ivy Promoting Mom Beyoncé's 'Icy Park' Adidas x Ivy Park Line
Blue Ivy Carter stands out from the other models, including mom Beyoncé, in a teaser for "Icy Park" Adidas x Ivy Park collection.
While the "Icy Park" Adidas x Ivy Park promotional tease features Beyoncé, Hailey Baldwin, Gucci Mane, and other models, it was 9-year-old Blue Ivy Carter who stole the attention of the Beyhive on Twitter. Several fans tweeted that Blue Ivy has taken the crown from her mother, others opined that Blue's parents Beyoncé and Jay-Z now work for her, and other Blue Ivy enthusiasts referenced her less-than-a-decade-old resumé.
The pint-size up-and-coming model dances and flips her hair in a video for "Icy Park" wearing various designs from the line that will drop on February 19 on Adidas.com. In one scene, Blue wears a pair of brown latex pants, a printed jacket, and a belt bag. In another, she has on a colorful printed parka and track pants.
As the name suggests, "Icy Park" is a collection of winter-appropriate garments and five new footwear styles. It is the third drop from the collaboration between Beyoncé and Adidas that begun in January 2020.
In addition to pointing out how Blue Ivy stood out from the rest of the models in the teaser for the "Icy Park" Adidas x Ivy Park, many also predicted that the eldest of Beyoncé and Jay-Z's children will be a Grammy Award winner after being nominated for best music video for her mother's "Brown Skin Girl." The awards ceremony will take place on March 14.
Take a look at the best reactions to Blue Ivy promoting mom Beyoncé's Icy Park collaboration with Adidas below.