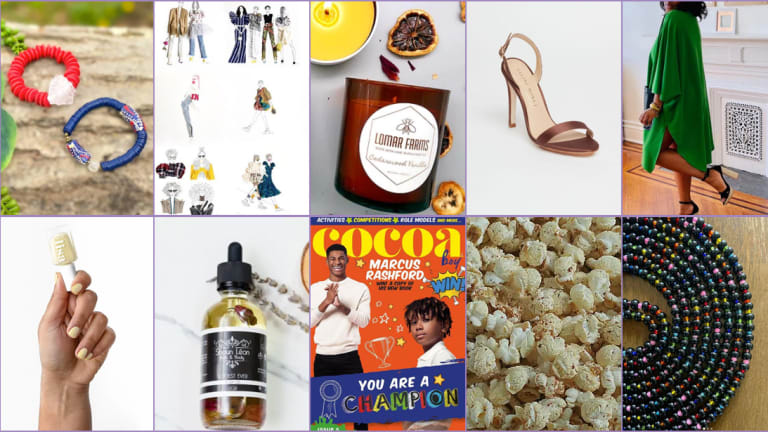 10 Black Woman-Owned Businesses to Celebrate Mother's Day and Beyond
Your Mother's Day gift can make an impression on the mom in your life, but it can also make an impact on a Black woman's small business.
Just because you waited until the last minute to buy gifts for Mother's Day (like I waited to compile this roundup) doesn't mean your present can't make an impression on the moms in your life and an impact on a Black female entrepreneur. From handmade jewelry to small-batch skin care to the perfect nude-colored shoe to eco-conscious art to magazines published specifically for Black children, here are the Black woman-owned businesses to celebrate Mother's Day and beyond.
Aisha Likes It was born out of Aisha Lockridge's desire for refined and eclectic "Afrobohemian" jewelry. When she couldn't find what she was looking for, the African-American Literature professor decided to create her own. She ethically sources materials from the African Diaspora and traditional semiprecious stones to design statement jewelry at a fair price. The Red and Navy African Beaded Bracelet Set ($58) is composed of recycled glass and vinyl, brass, and beads from Ghana, Nigeria, and the U.S.
In Ghanaian, Senegalese, Nigerian, and other West African cultures, waist beads are symbols of sensuality, fertility, femininity, and spiritual health. They've also become popular among people of the African Diaspora in the Americas as part of an effort to reconnect to our ancestry. TheWaistland's Jameelah Mack curates and combines beads of various hues and shapes to create traditional tie-on waist beads for all bodies. Mack regularly posts her creations on TheWaistland Instagram and invites admirers to direct message her for ordering. Prices vary but are super affordable for the beautiful waist adornments.
We featured Shaun Léon Beauty, the self-care brand founded by mother-daughter duo Leona and Shaunya Hartley, as an Editor's Pick back in 2020 and we're still big fans of the small-batch, gluten- and cruelty-free products that address a myriad of skin issues and help create a self-care vibe every mother needs. You can't go wrong with any of the Shaun Léon products, but we're partial to the Power Balm ($12) and Softest Ever Body Oil ($23). The recently-released Moods and Vibrations Scented Candle Tumbler Size ($45) will complete any self-care ritual.
According to Greenpeace, we have bees to thank for every one in three bites of food we take, as honey bees are responsible for 80 percent of pollination across the world. However, bees are in crisis as a result of pesticide use, habitat loss, and other factors. With the devastation of the worldwide bee colony in mind, Yvonna Wright and her family, which includes her husband and UPTOWN co-founder/co-CEO Brett Wright, launched Lomar Farms to help stabilize the bee kingdom while also lovingly making products that contain ingredients, like honey and beeswax, from her own beehives. The Lomar Farms Gift Box Sampler ($72), which contains honey, a travel candle, a votive, a bar of soap, and a Save the Bees mug. The candles are made from pure beeswax and shea and coconut butters, and feature all-natural cotton and paper eco wicks.
When Lisa Wilson couldn't find a vegan, non-toxic, and cruelty-free nail polish while pregnant with her son, she decided to create her own and Lisa Nail Lacquer was born. Her polish colors reflect the vibrancy of Wilson's Caribbean culture, and help the wearer feel special. Pick out a few colors from the expansive collection, and don't forget to check out the nail care options, especially the Vitamin Enriched Soy Polish Remover ($12).
The vintage fashion-loving mom in your life will thank you for introducing her to Tracy Chambers Life & Style, which is named after Diana Ross's character in Mahogany. Founder Helen Nurse curates a collection of timeless styles and "new classics" for women of all sizes. The Caftan Tunic Dress ($70) and the Catch of the Day Tote ($50) certainly create a summer mood that can be dressed up or down.
You know how "nude" usually matches only a small segment of the skin tones present within humankind? Well, Salone Monet has completely changed that dynamic in the premium shoe sphere with her namesake collection. Her sandals, pumps, and pointy-toe flats are available in six inclusive nude tones, and the Sable sandal ($295) is even on Beyoncé's radar. And since every pair of Salone Monet shoes is hand-dyed to order, the brand isn't adding to the worldwide waste caused by the fashion industry. If you're not sure which hue will match your complexion, you can arrange a consultation through the site with Monet.
Speaking of reducing fashion waste, artist Kelly Lottahall turns old clothes into art by using fabric scraps to give her fashion illustrations an unique 3-D effect. Her collection has something for everyone, and you'll probably choose a piece for yourself while selecting one as a Mother's Day gift. Lottahall has original illustrations for sale, as well as prints at an insanely-affordable price point. We dare you to not be captivated by her creation process.
Cocoa Girl and Cocoa Boy magazines are helping Black children see their value in a world that isn't always kind to them. Publishing Director Serlina Boyd founded the magazines in order to give Black children a voice while also educating others about Black culture. Reading through the magazines is an activity that moms can enjoy with their children. Cocoa Publishing is based in the UK, but ships worldwide.
Four words: Fried chicken-flavored popcorn! It's Poppin! Gourmet Kettle Korn has harnessed the power of fried chicken and transferred it to kettle corn. Seriously, it tastes just like fried chicken, yet won't cause a food coma like soul food is known to do. The Fried Chicken Kettle Korn is available in sizes medium ($9), large ($12), and full kettle ($60). Whoever receives this gift will be happy you put them on to this Charlotte, NC brand that also does a Honey Bourbon Bacon Kettle Korn, Chili Cheese Kettle Korn, Hot Wings Kettle Korn, Carolina BBQ Kettle Korn, and many varieties of sweets-based kettle corn.