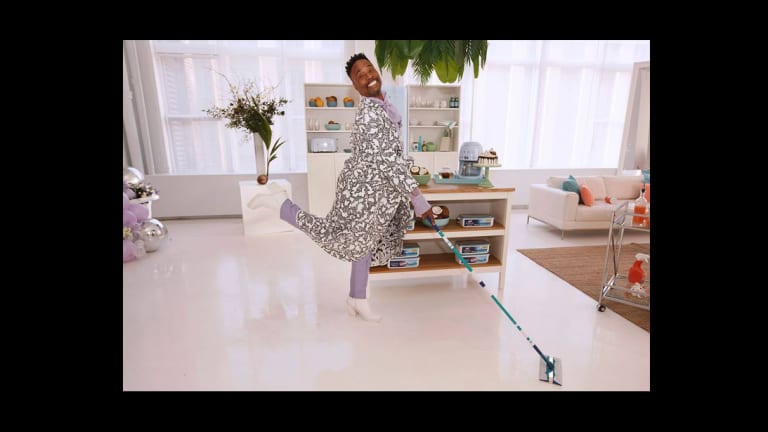 Billy Porter Says Spring Cleaning Is Self-Caring
Along with promoting cleaning as self-care, Billy Porter discusses the popularity of "yas queen," what to expect from Pose's last season, and Cinderella.
Billy Porter, with the help of Clorox Scentiva, is inviting you to rethink the activity of cleaning this spring. Gone are the days when scrubbing your space was a bore and a chore. Today, spring cleaning is a fresh start and an act of self-care, one that deserves your most emphatic "yas clean!"
Porter teamed up with Clorox Scentiva for the #YASCLEAN campaign and sweepstakes that aims to promote cleaning as a means of self-care. The actor, activist, and fashion maven is encouraging you to reimagine your cleaning routine and to bring balance, cheerfulness, or calm to your home through the fragrances of Clorox Scentiva, Tuscan Lavender & Jasmine, Tahitian Grapefruit Splash, and Pacific Breeze & Coconut, respectively. Clorox sought the expertise of the top fragrance houses to develop scents that are unmatched by any other cleaning brand. So the Scentiva disinfecting wipes, cloths, sprays, foams, and cleaning gels not only kill 99.9 percent of germs, but they also engage the sense of smell, thereby improving your mood. Clorox Scentiva believes so much in the idea of cleaning as self-care that it's hosting a sweepstakes, through June 30, in which you can win $5,000 to give your home a makeover and an additional $5,000 to donate to a charity focused on self-expression that is on the brand's radar. 
Now, you might be thinking that cleaning as self-care is quite a leap, but Porter encourages you to consider the aftereffects of sprucing up your home.
"It's about what happens after, it's about how good you feel once the space is clean," Porter told UPTOWN exclusively. "Your brain is clean, your mind is clean. And it's a self-care space for you to live inside of. Who doesn't love a clean space? I know for myself, it really opens me up and helps me breathe a bit better."
Of course, a little music will help the process go a little faster, even if you take a break to do a two-step, twirl, or twerk. But it's all about how you feel while cleaning and after. The Emmy, Grammy, and Tony Award winner revealed that his go-to music while cleaning, ahem, self-caring is Spotify's Glitterbox station.
"It's a groovy House, Disco, Funk throwback, kind of like Dance, and that lifts me," he said. "It helps me focus on turning my house from drab to fab!"
"Yas clean" is a catchy phrase that is based on "yas queen," a phrase created by the Black LGBTQ+ culture and community. The latter's popularity at times comes across as cultural appropriation, but thanks to shows like Pose, which co-stars Porter as Ball emcee and advisor Pray Tell, Black gay culture has become more visible and has revealed the history and significance behind some of the most trendy hashtags on social media. 
"I think prior to the job that I have right now, which is being on Pose, you know, it felt like appropriation in a way, without the acknowledgement of where it came from," Porter explained. "I think Pose has cracked open a space where people are beginning to understand where all of these colloquialisms and all of this stuff comes from. And I'm grateful to be a part of that."
Pose is set to return to FX on May 2 for its third and final season. Filming occurred during the pandemic with the cast and production adhering to COVID restrictions. Porter revealed that he, indeed, used Clorox Scentiva to wipe down his spaces on set. 
Although the series is ending, the audience can expect the full range of emotions we've come to admire in Pray Tell, Blanca, Elektra, and the children of the House of Evangelista. When viewers look back on the series as a whole, Porter hopes they understand "the message that everyone matters, that everyone's life matters." 
He continued, "Even the ones that we don't understand. Their lives still matter. You know, and my hope is that everybody will take that away. Take that with them and move through life in a different way. Leading with love first. Leading with compassion first."
In the summer, viewers will have the opportunity to see Porter take on the role of the Fairy Godmother in a modern musical version of Cinderella. He told Deadline that he thinks the kids are ready for a genderless Fairy Godmother, but what does he hope adults will take away from his portrayal of the character and their children's reactions to it?
"Magic has no gender, and gender is a humanistic construct that we are beginning to learn has no boundary," Porter affirmed. "This younger generation is teaching me, personally, and teaching us, a lot about how we interact with the hierarchy of gender. And they're exploding it! They're changing the narrative. And I'm glad to be a part of that."
Porter is making his feature directorial debut with What If?, a coming-of-age film that chronicles the love story between a high school senior and a trans girl, after he posts about his crush on her on social media and the internet encourages him to pursue the relationship.
Like the What If? character seems to, the #YASCLEAN campaign harnessed the power of social media with a TikTok that demonstrates Porter's dynamic and engaging talent, even if he maintains that social media is "a young person's game."
"It's astonishing to me that the engagement for the #YASCLEAN campaign with Clorox Scentiva has sparked such interest, and it has been so successful in that space," said Porter. "I'm really excited about that. And, I'm hoping the kids are keeping their rooms clean so their parents don't have to be mad."
But instead of thinking of a messy space as an offense, let's change our mindset to take it as an opportunity for mood-boosting self-care — an endeavor that could win you and the charity of your choice $5,000!