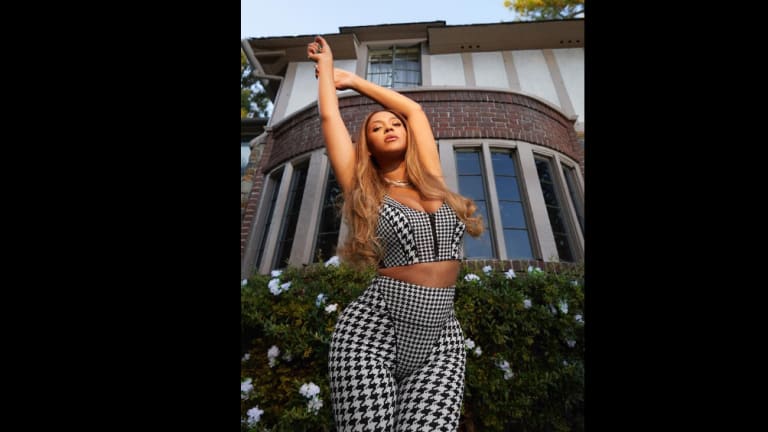 Beyoncé's Daughters Rumi and Blue Ivy Carter Matriculate at the 'Halls of Ivy'
The collegiate-inspired "Halls of Ivy" video makes us want to go back to school, but we're probably not cool enough to sit with Rumi and Blue Ivy Carter.
Rumi Carter appears alongside mom Beyoncé and sister Blue Ivy Carter in a recent advertisement for the latest Adidas x IVY PARK collection, "Halls of Ivy." The uncanny resemblance between the three has sparked a new rumor about the "Lemonade" singer.
We've never believed any of the ridiculous conspiracies and rumors floating around about Beyoncé, but now we have no choice but to start one of our own: Bey has the power to clone herself. Just look at daughters Blue Ivy and Rumi alongside their mother in their coordinating houndstooth athleisure in the collegiate-themed "Halls of Ivy" video. The 9-year-old and 4-year-old, respectively, look like Bey pressed COMMAND+C on two stages of her childhood and then COMMAND+V on 2021, instead of conceiving them with husband JAY-Z.
Rumi is only in the spot for a hot-minute about halfway through. Bey smiles at the camera while holding Rumi on her hip. Blue stands behind them, holding a soccer ball.
Blue and Rumi aren't the only A-list offspring enrolled in the "Halls of Ivy." Kobe and Vanessa Bryant's 18-year-old daughter Natalia is the campus MVP, as she models a cropped bustier and suit while standing in a trophy-lined room in one clip and walks up a grand staircase while wearing an olive Ivy Park bomber jacket and tosses one of two ponytails over her shoulder for effect in another.
Reese Witherspoon's children, 22-year-old Ava and 18-year-old Deacon Phillippe, also made their Ivy Park modeling debut as matriculates in the "Halls of Ivy." Deacon wears an Ivy Park sweatsuit to play ping-pong, while Ava reads in a full ensemble from the lucrative collaboration.
The spot also stars NBA ballers James Harden and Jalen Green, who show off their ball handling skills while modeling items from the collection that drops online on Dec. 9th and in stores worldwide on Dec. 10th.
This ad for "Halls of Ivy" certainly makes us want to go back to college, but we're probably not cool enough to sit with Rumi, Blue, Natalia, Ava, and Deacon, let alone Beyoncé, Harden, and Green.