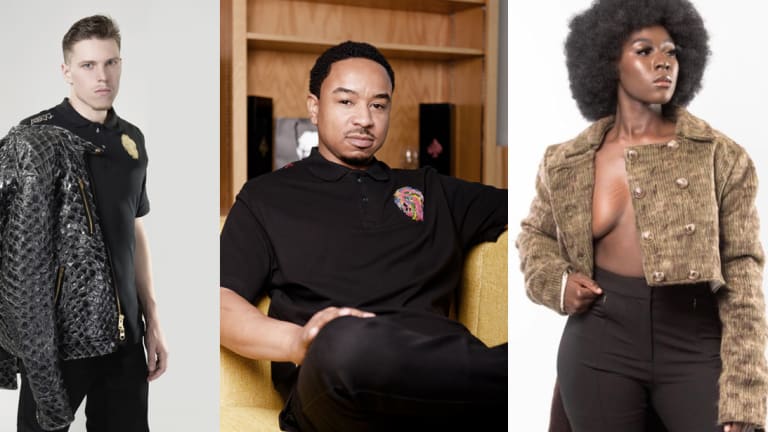 Asferi Couture Roars Opulence & Swag
Anthony Romello's Asferi Couture is the alpha lion in the pride of Black-owned casual luxury and statement fashion brands.
Anthony Romello, the man behind luxury fashion brand Asferi Couture, changed a setback into an opportunity, like entrepreneurs often do. The native of the DMV area didn't grow up with the Egyptian cotton he is now so familiar with on his back, nor did he often have money to purchase lifestyle and luxury magazines, like Ebony, Jet, GQ, and Robb Report, that he enjoyed reading as a teen. But what he did possess was an understanding of the power of clothing to make an impression and a drive that was spurred by his desire to honor his late grandfather and father. He also wanted to rebound from a lawsuit with the administrators of his trust. 
"Growing up in D.C., fashion was always at the forefront of the inner-city culture," said Romello during an interview in 2021. "You absolutely had to keep a nice haircut and dope outfits. Without a sense of fashion or swag, if you will, you were strongly ridiculed and the chances of attracting the opposite sex were low. So I've always had a sense of fashion."
However, it was his father and grandfather who drew him, indirectly, into the fashion industry. His father passed away when Romello was 12, and his grandparents kept the clothing of their only child in pristine condition inside plastic bags from the dry cleaner. Romello's grandfather, Rufus, bought top-quality suits and golf shirts, and also amassed a collection of polo shirts that dated as far back as the 1960s. When Rufus died, he left Romello a trust that included the clothing of both men, as well as a substantial amount of money.
He got along well with the administrators of the trust, Romello says, until he sued them for charging his trust almost $250,000 for their services in less than two years. During the court case, Romello expressed a desire to keep his father's and grandfather's clothing, mainly their polo and golf shirts.
"Needless to say, I never received any of their clothing," said Romello. "The trustees sold it at an estate sale. I became so upset that I began to think of criminal ways to pay them back for what they had done to me."
Instead of stewing in his hatred for the trustees and dwelling on what he'd lost, Romello took his then-girlfriend, now-wife's advice to turn his negative energy towards something positive. And that's when Asferi Couture was born.
Romello kicked off his brand with a collection of hoodies and polos, which were definitely a nod to the legacies of his forefathers. The most prominent feature of the garments is the colorful yet ferocious-looking lion that is embroidered on the front. The Asferi logo demonstrates how Romello keeps his mind on his past but also keeps his eye on the future.
"I chose a ferocious lion as my logo in remembrance of my father, grandfather, and now son Anthony III, who all share the Leo zodiac sign," explained Romello, who now owns homes in Maryland and Minnesota. "I made my lion bare (its) sabered teeth because I needed him to be more ferocious than any other lion."
Asferi in the Amharic language of Ethiopia, where Romello's wife is from, means scary, ferocious, or intimidating, he says. The brand name and logo convey Romello's business philosophy that you must be "strong and respected in your jungle or field for anyone to take you seriously and you must be intimidating so other brands are fearful to copy you."
The Asferi lion is not only a dope design, but it also has some fashion styling functionality. "I gave the lion colorful locs of hair because I have a large collection of sneakers (in many colors) from many brands," he explained. "I'm able to rock my multicolored lion-head hoodies and polos with 90 percent of the sneakers I own."
Speaking of practicality, most Asferi hoodies, polo shirts, T-shirts, and joggers are made of long-lasting yet soft Egyptian cotton and lined in mulberry silk. After losing his credit cards, wallet, and driver license in other garments, Romello came up with the genius idea to add hidden pockets with invisible zippers to his designs. The pockets do not change the classic shape of the garments but are big enough to securely and discreetly hold a mobile phone. In addition, Romello has kept the health of his customers in mind by adding fabric that shields electric and magnetic fields (EMF) to the pockets of Asferi clothing, in order to guard against harmful radiation from cell phone towers, man-made lighting, and other sources.
"We probably won't find out how much 3G, 4G, and 5G really affects our health until a few years down the road," said Romello. "I'm getting ahead of this situation by using (EMF-shielding fabric) now."
Although Romello has a team of experienced tailors and seamstresses, social media representatives, and lawyers, he remains very close to the production of Asferi, and even taught himself how to operate his 15-needle embroidery machine. Yes, the owner of this uber-luxury brand embroiders his own designs.
When considering Asferi, it's best to remember that quality and exclusivity come at a cost. If you want to get your hands on the Asferi collection — which now includes Mongolian sheep fur, fox fur, and mohair vests, as well as motorcycle jackets made from the skin of dragon snakes and pirarucu fish and feature real gold hardware — you'll need some deep pockets, as the line starts at $480 for a Tee and surpasses $14,000 for a jacket. The textiles used to make Asferi clothing are imported and delivery sometimes takes more than a month, Romello asserts. In addition, a lot of time and detail goes into each garment, and it may take Romello four to eight hours to embroider one Asferi lion. So you won't find any defects in the world of Asferi, like you may find with cheap fast fashion.
"One mistake and I won't sell it," said Romello.
He added, "Most of the people who balk or question my prices soon realize why I charge so much after I let them know how much detail and time it takes to make most of my pieces. I've never had to explain my price point to a person who regularly shops at luxury stores."
Join the lion's pride by following Asferi Couture on Instagram.