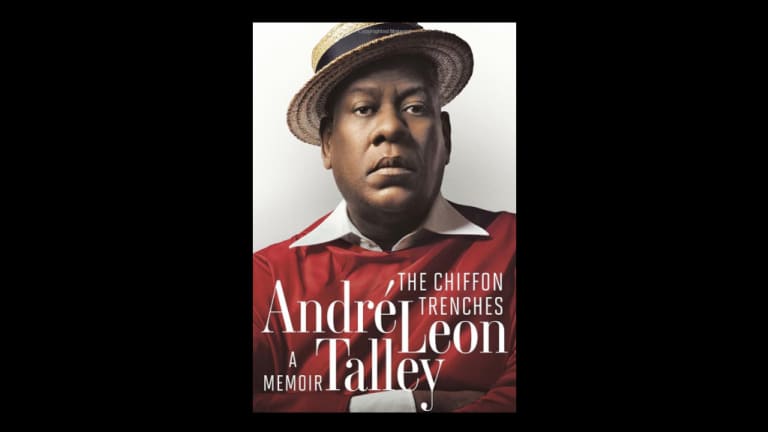 André Leon Talley: 'Anna Wintour Did Not Make Me, I Made Myself' [VIDEO]
André Leon Talley chatted with Tamron Hall about his book, Anna Wintour, diversity at Vogue, and Karl Lagerfeld rumors.
André Leon Talley virtually joined Tamron Hall on her eponymous talk show on Thursday, May 21st, to discuss his new book The Chiffon Trenches: A Memoir and clear up the controversy the book has stirred recently.
Talley discussed whether Vogue Editor-in-Chief Anna Wintour "made" his career a success, as many have assumed and interpreted the memoir. In addition, Talley addressed diversity at Vogue, and rumors that he had a romantic relationship with the late Chanel Creative Director Karl Lagerfeld.
Talley writes in The Chiffon Trenches: "I wonder, when [Anna Wintour] goes home alone at night, is she miserable? Does she feel alone?" He continues about the demise of their close friendship: "Anna is so powerful and busy; she simply put me out of her existence. Now she treats me as a former employee, brief greetings, never anything more than perfunctory salutations."
"Was that the intention of the book, to set the record straight that your career was not made by Anna Wintour?" Hall asked Talley. " ... Some people say you went after her. Why?
"I didn't go after Anna Wintour," Talley responded to Hall. "This is in ways a lot better to Anna Wintour. It is my respect out of our kinship and our 30 years of friendship. Of course there were things that happened to me later, in the last two or three years, that I felt were very not correct, but in many ways I owe to her my world of Vogue, I owe to her many, many important segments of my life. But first of all, let me say, Anna Wintour did not make me, I made myself ... I became André Leon Talley from my childhood, growing up in my grandmother's home, growing up in the church, in the Black Missionary Baptist Church."
Later in the interview, Hall asked Talley if he felt "free" after sharing his truth in the book. Talley answered, "I do not feel free. This book was not a moment of liberation for me, when I sat down and poured my soul. I've set myself up for analysis, to be torn down, yet to receive love from my friends, people who really know me." He added, "This book is an epistle of love, not only to Anna Wintour, but to the institutions of Vogue, Women's Wear Daily, and Vanity Fair."
The rumor that Lagerfeld and ALT, as Talley is affectionately known, shared an intimate relationship also came up during the Tamron Hall interview. Hall asked Talley whether he is dating or has a significant other. She also questioned if there was ever one who got away, specifically mentioning Lagerfeld.
"There was no one [who] got away, and Karl Lagerfeld and I were very close friends, but there was never any sexual chemistry between us," responded Talley. "I regret that I have not been able to be intimate with human beings because of what happened to me in my childhood. I do not like to be touched, and this is indeed a flaw in my life."
Talley reveals in The Chiffon Trenches that he was sexually abused as a child, beginning when he was 9. "It was not one man, it was many, young adults, teenagers, or men throughout the neighborhood," he told People. "It was painful. It was serial. And it took place in shame. In shaming places, in dark places—like the woodshed of my house, where they kept the wood and coal."
Talley also told People that he alleviated his pain by escaping into the worlds of fashion and style, and the pages of Vogue, eventually.
ALT also writes in his book, "None of my contemporaries have seen the world through [B]lack eyes." So Hall asked him if he was referring to contemporaries at Vogue.
"I meant that the Vogue institution as — the moment of Blackness was, as I represented it, I was certainly included in conversations — there were conversations about diversity in the photos and articles," responded Talley, who was raised by his grandmother in Durham, North Carolina. "But Vogue respected the idea of diversity, all aspects and rainbows and reputation. But at the same time, they do not see the world through my eyes, through my environment, how my childhood, upbringing, affected my references and my points of view in my life."
Talley's The Chiffon Trenches: A Memoir is currently available for pre-order.
Tomorrow, May 22nd, Black-ish star Anthony Anderson appears on the Tamron Hall show. In addition, Hall chats with her longtime hairstylist Johnny Wright about his and client Tamar Braxton's new VH1 show To Catch a Beautician. And just in time for Memorial Day Weekend, Chef Art Smith shares an easy recipe to cook at home that celebrates his Southern roots.