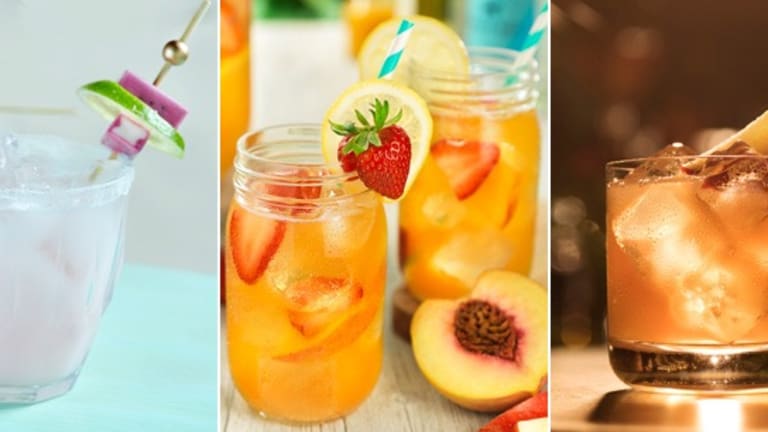 5 Labor Day Cocktails to Make the End of Summer Bearable
These cocktails will help you send off summer in a festive way.
Whether you're attending an end-of-summer gathering or mourning the season solo, these five Labor Day cocktails are sure to cheer you up over the long weekend.
BACARDÍ Mojito
Ingredients:
2 parts BACARDÍ Superior rum
4 lime wedges
12 fresh mint leaves
2 heaped tsp caster sugar
1 part soda water / club soda
Sprig of fresh mint
Method: Take the lime wedges and squeeze them in into a glass. Gently press together the limes & sugar. Bruise the mint leaves by clapping them between your palms, rub them on the rim of the glass and drop them in. Next, half fill the glass with crushed ice, add the BACARDÍ Superior rum & stir. Top with crushed ice, a sprig of mint and club soda.
Stella Artois Cidre Spritz (in partnership with actor Luke Evans)
Ingredients:
5 oz of Stella Artois Cidre
1.5 oz Aperol
.5 oz Grand Mariner
1 oz Grapefruit juice
Grapefruit twist
Method: Build ingredients in a Cidre wine glass with ice, stir. Garnish with a grapefruit twist, sip slowly, and enjoy.
Açaí Caipirinha (from HI-CHEW mixologist partner Allison Kave of Butter & Scotch)
Ingredients:
2 ounces Açaí HI-CHEW Infused Novo Fogo Cachaça **
Half of a lime cut into wedges 
1 Tablespoon sugar
Method: In a cocktail shaker, muddle the sugar and lime wedges using a muddler or wooden spoon, until the juice from the limes has been fully expressed. Add in the cachaça, fill with ice, and shake vigorously. Strain over fresh ice in a sugar-rimmed rocks glass, and garnish with a lime wheel and Açaí HI-CHEW candy. **INFUSIONS: The infusion ratio is one piece of candy per ounce of liquor. Soak the candy until dissolved.
BACARDÍ Treacle
Ingredients:
2.5 parts BACARDÍ Reserva Ocho
0.25 parts sugar syrup
1 part freshly-pressed apple juice
2 dashes orange bitters
Method: Build over ice rocks until perfectly diluted. Float apple juice last. Garnish with an apple slice.
Angry Party Punch
Ingredients:
2 bottles Angry Orchard Crisp Apple
6 oz vodka
12 oz peach juice
12 oz white wine
4.5 oz lemon juice
3 oz simple syrup (1:1 sugar and water)
Method: Build in a large punch bowl and top with Angry Orchard Crisp Apple. Garnish with lemon wheels, strawberry slices and peach slices.