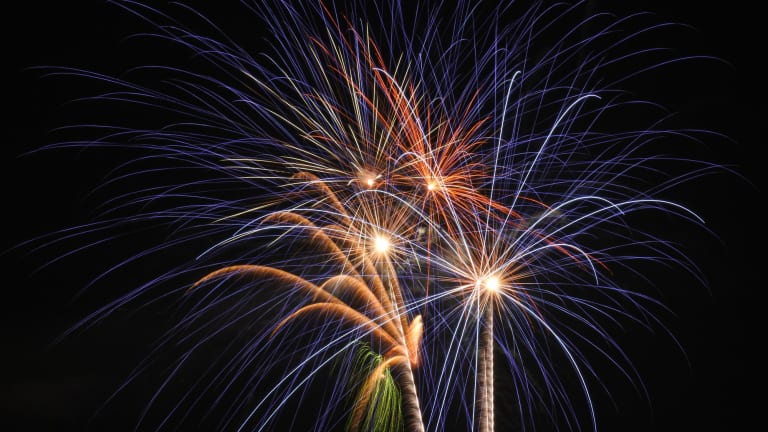 5 Celebratory Fourth of July Cocktail Recipes
These cocktails are sure to be a hit this Independence Day.
Beat the heat this Independence Day with these Fourth of July cocktails with a red, white, and blue spin on classics like mojitos, juleps, punch, and even sorbet.
Americana Faux-Jito
Ingredients:
3 oz. Smirnoff Ice Red, White & Berry
1 oz. Smirnoff No. 21 Vodka  
4 cherries
4 raspberries
2 basil leaves
2 oz. lemon juice
1 lemon wedge
1 sprig of basil
Method: Combine cherries, raspberries, and basil into the bottom of a cocktail shaker and smash. Add juice, Smirnoff No. 21 Vodka, and ice. Shake vigorously and strain into a glass and pour in Smirnoff Ice Red, White & Berry. Garnish with lemon wedge, cherries, raspberries, and sprig of basil.
Stars & Stripes Sorbet
Ingredients:
12 oz Smirnoff Ice Red, White & Berry
10 oz. Bag frozen berries
1 cup simple syrup
Method: Puree into a blender and freeze until solid. Scoop into patriotic ice cream cups.
Mutti Tomato Mojito
Ingredients:
1 can Mutti Cherry Tomatoes
Vodka 
½ ounce basil simple syrup (recipe below)
1 cup water
1 cup sugar
1 cup fresh
basil leaves
2 lime wedges 
1 cherry tomato (Mutti or fresh)
1 ½ oz. club soda
Method: Muddle one cherry tomato (Mutti or fresh), 2 wedges of lime, and ½ ounce of basil simple syrup. Add 2 ounces of the Mutti Cherry Tomato Vodka, and shake with ice until combined. Top with 1 ½ oz club soda, and garnish with a wedge of lime, cherry tomato, and/or basil leaf.
Cherry Tomato Vodka: Drain 1 can of Mutti Cherry Tomatoes and pour the tomatoes into 1 quart (32oz) mason jar. Fill the rest of the jar up with vodka and let it sit for a week.
Basil Simple Syrup: In a small saucepan, bring 1 cup water to a boil. Add 1 cup sugar and stir until dissolved. Add 1 cup of fresh basil leaves, cover and reduce heat to a simmer. Cook for 15 minutes and then let cool. Once cool, remove the basil leaves and store in the refrigerator until ready to use.
Watermelon Julep
(Courtesy of HI-CHEW mixologist partner Allison Kave)
Ingredients:
2 oz HI-CHEW Watermelon infused bourbon**
1 teaspoon sugar
1⁄4 cup fresh mint leaves
Method: In a cocktail shaker gently muddle the sugar and mint to release the oils in the mint leaves. Pour in the bourbon, shake with ice, and strain over pebble ice in a julep cup. Garnish with a large bouquet of fresh mint and serve with a metal julep straw. **INFUSIONS: The infusion ratio is one piece of candy per ounce of liquor. Cut the candy into pieces and soak until dissolved.
Tropical Orchard Punch
(Courtesy of Angry Orchard mixologist partner Jeremy Oertel)
Ingredients:
3 bottles Angry Orchard Crisp Apple
1 cup white rum
0.5 cup peach nectar
1.5 cups passion fruit juice
0.5 cup lime juice
0.5 cup vanilla syrup
10 dashes Peychaud's Bitters
Method: Add all ingredients to a punch bowl with ice and stir to combine. Garnish with peach and apple
slices.