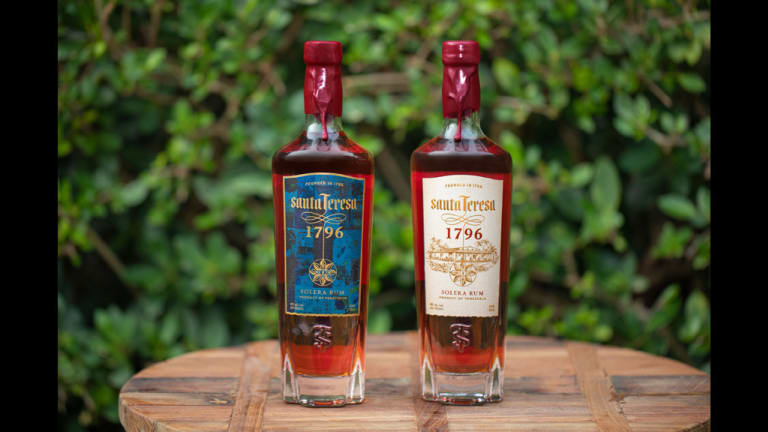 25-Plus Bartenders Gave Santa Teresa 1796's Label a Limited Edition Makeover
Just in time for National Rum Day, Santa Teresa 1796 has released a special limited edition bottle.
The pandemic has hit the global hospitality industry quite hard, putting mixologists from the chicest hotels to bartenders at your local haunt out of work. But Santa Teresa 1796 rum developed a unique way to get bartenders paid while also keeping their creativity flowing, even if they were only pouring drinks for themselves at home. The brand's Crafted Together Limited Edition bottle, which launched just in time for National Rum Day on Aug. 16th, features a label designed by more than 25 bartenders around the world.
The Crafted Together bottle was the brainchild of Geoff Robinson, a Santa Teresa 1796 global brand ambassador, who wanted to give bartenders the opportunity to unite and support each other. He kicked off the program by designing a portion of the label and then nominating another bartender to do the same. Then, that bartender nominated someone else in their field to participate, and so on until the limited edition label was complete. The video above explains how each participant designed a portion of the label to reflect how they persevered during the lockdown. This project also demonstrates how creative people are often talented with a variety of media, as the bartenders put down their cocktail mixers and picked up oil paints, charcoal, and cameras to give the Venezuelan rum brand a temporary makeover.
"We believe that, no matter the situation, we are always stronger together," said Robinson in a press release. "We are committed to making a positive impact in our communities and with many of our bartending colleagues out of work due to COVID-19, we are pleased to both support and honor the industry through the new Santa Teresa 1796 Crafted Together Limited Edition bottle."
Not only did Santa Teresa 1796 compensate each bartender for their participation, but it also provided additional support to the bartending community by making a $10,000 donation to the USBG Bartender Emergency Assistance Program. "Santa Teresa is a brand built on resilience and courage," said Alberto C. Vollmer, Santa Teresa CEO and fifth generation rum maker, in a press release. "Over two centuries, we have worked to unite and support our communities tackling adversities head-on and we continue this commitment through the Santa Teresa 1796 Crafted Together Limited Edition bottle, which provided an outlet for originality and creativity, as well as assistance to our bartending family facing hardship at this time."
Although Santa Teresa is sporting a new look, it's still the same rich and refined yet unexpectedly dry rum discerning palates have come to love. The Santa Teresa 1796 Crafted Together Limited Edition bottle is available at Reserve Bar for $48. If you know someone who could use a pick-me-up, consider making the ultimate gift by adding on a Luxury Drawstring Bottle Holder ($15) or Handmade Leather Bottle Holder ($25).