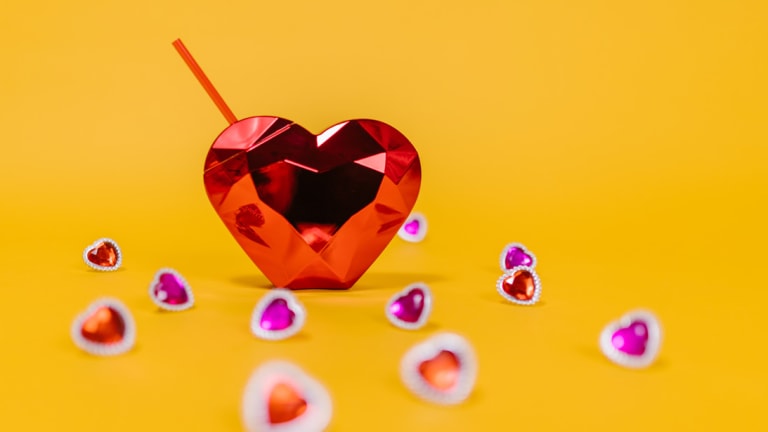 Show Some Love With These 11 Valentine's Day Cocktails
Take the holiday of love from basic to festive with Valentine's Day cocktails featuring vodka, rum, and whisky.
Every Valentine's Day it's the same thing: chocolate, flowers, and wine or champagne. But this year, more than ever, we need to elevate the holiday of love and these cocktails mixed up with rum, whisky, and vodka are just what Cupid ordered. If friendship is what you're cheering this February 14, I got you too. Now let's break out the bar tools and cart!
Consider this your introduction to Plume & Petal, a collection of three premium vodkas lightly infused with fruit, botanicals, tea, and a hint of honey. Plume & Petal's three vodka variants are Peach Wave, Cucumber Splash, and Lemon Drift. When they're mixed as a Spritz, they only contain 83 calories, which is 30 percent less than a standard glass of wine. That means more room for Valentine's Day chocolate, am I right? If you're going for a sophisticated sip, the Just Peachy is for you. Chilling with your pals over Zoom? You're going to need to be refreshed with a Cucumber Watermelon Cooler. The Pink Flamingo is a pour that evokes memories of days in the sun, which we can all use during the coldest month of the year.
Whether you're spicing up quality time with your honey or catching up with your buddies, these easy-to-make rum cocktails will be a hit. The V-Day Sliced and Spiced is a Captain Morgan signature. Plus, it's red and pretty. The Captain Morgan Sugar and Spice Mule is a fun spin on a classic, much like this year's Valentine's Day can be.
For an ultra-romantic, at-home Valentine's Day, take the Santa Teresa 1796 and Dewar's off the bar cart, and delight your soul mate or new flame with a decadent or classic with a twist cocktail. A dark rum like Santa Teresa 1796 paired with chocolate, sherry, and banana cream is a match made in indulgent heaven. Your sweetie will be Bananas for You after just one sip. Similarly, the Lovebird will be a sensation after dinner with its aphrodisiacs of white chocolate and raspberries. If you're into tried and true cocktails, but want to add something special, you have to try the all-new Dewar's Portuguese Smooth Ginger Highball and Spiced Tonic.
The Cosmopolitan has enjoyed much more popular days, but it deserves a reboot just like Sex and the City, the series that made it famous. The Grey Goose Cosmopolitan is the perfect sip for a virtual Galentine's Day brunch with the Carrie, Miranda, and Charlotte in your crew. If you're blissfully solo this Valentine's Day, let the Samantha-inspired I Love You, But I Love Me More be your pour for the holiday. It puts a twist on the Cosmo with pomegranate and Patron Citronge liqueur.