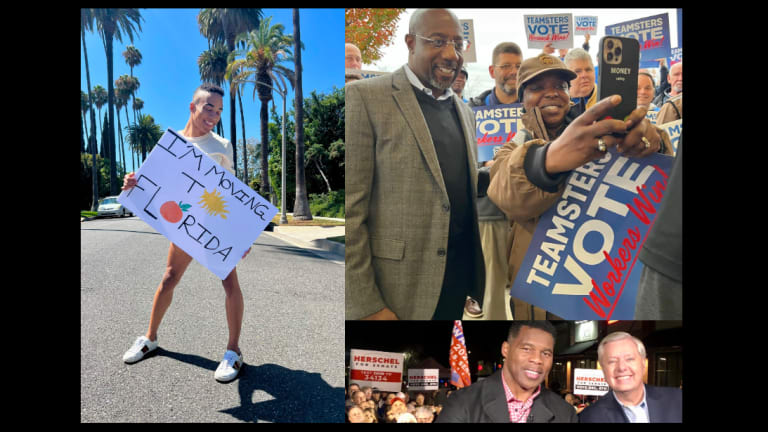 Heard on the Street: Herschel Walker's Son Reacts After GA Runoff Loss
Herschel Walker's son Christian didn't mince words as he opined on why his father lost his challenge of Democratic Sen. Raphael Warnock of Georgia.
"Don't beat women, hold guns to peoples heads, fund abortions then pretend your [sic] pro-life, stalk cheerleaders, leave your multiple minor children alone to chase more fame, lie, lie, lie, say stupid crap, and make a fool of your family.. And then maybe you can win a senate seat. 

"Don't compare Warnock running over his wife's foot to my father holding guns and knives to my mothers throat, threatening to kill his therapist, her, and one of his adultresses [sic] in a therapy session, and telling my mom and I he was going to beat our asses. Get off my page."
"The Truth: Trump called my dad for months DEMANDING that he run. Everyone with a brain begged him: 'PLEASE DON'T DO THIS. This is too dirty, you have an insane past… PLEASE DONT [sic] DO THIS.' We got the middle finger. He ran.

"Republicans, we say we don't play 'identity politics' and then you ran this man mainly because he was the same skin color as his opponent with no background other than football. A boring old Republican could have won."
"I was called a backstabber after getting angry and blowing up from watching my dad lie for 18 months straight… But he's not a backstabber for leaving his 2 minor children he kept secret to grow up without a dad as he chases more fame and power? Pathetic. Raise your kids."
– Christian Walker, Herschel Walker's son, responds in a series of tweets to his father's loss in a Georgia runoff election against Democratic Sen. Raphael Warnock. The Uncancellable podcaster, who describes himself as an "AMERICAN" and "free-speech radicalist" on his Twitter profile, referenced Herschel's alleged abuse of Christian's mother, Cindy DeAngelis Grossman; neglect of his children; extramarital affairs; and anti-abortion hypocrisy. The Ron DeSantis supporter also called out fellow Republicans for playing identity politics, he says, instead of running a candidate who could win against Warnock, whose second runoff victory in as many years secured the Democrats' outright majority in the Senate for the rest of President Joe Biden's current term.