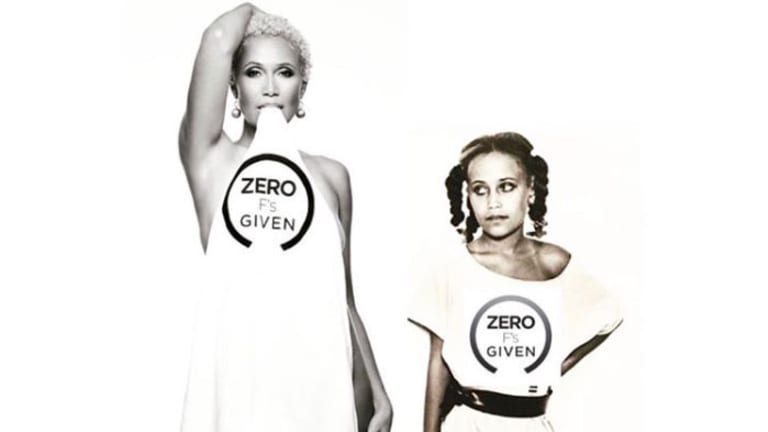 Zero F's Given Is Helping Sexual Abuse Victims Reclaim Their Power
In addition, The Center for Safety & Change has partnered with A Call to Men to fight toxic masculinity.
On Nov. 11th, The Center for Safety & Change and its board member Anita Kopacz launched Zero F's Given, The Center's national campaign to raise awareness for sexual abuse trauma and help victims and disenfranchised populations heal, find their voice, and reclaim their power.
The Center and Kopacz, who is a "thriving survivor of sexual abuse" and former editor-in-chief of Heart & Soul, hope to sell 10,000 T-shirts in order to raise funds for The Center via Zero F's Given. Eighty percent of profits will go to The Center to "fund programs and help survivors of sexual violence."
Kopacz helped spread the word of Zero F's Given across the country by tapping celebrity photographer Keith Major to shoot the #ZFGDay campaign. In addition, many celebrities and notables, including Angela Rye; Alicia Garza; June Ambrose; Rebecca Gayheart; Malaak Compton-Rock; and Yvonna Kopacz-Wright, took to social media to show off the Zero F's Given Tee, using the hashtag #ZFGDay to increase awareness of sexual violence in the country.
"Sexual violence is not just a woman's issue," said Kopacz in press materials. "It has no boundaries whether socioeconomic, cultural, racial, and class distinctions. It is one of society's major problems sometimes hidden in plain sight. The high cost of the physical, financial, and psychological toll it exacts is the reason I continue to fight and be an ally for victims and survivors. Today, on 11/11, we are letting ALL victims and survivors across this country know that you have supporters, and it is everyone's issue, not just yours."
Principal and CEO of IMPACT Strategies and political commentator Angela Rye explained why the efforts of the government, legislation, and law enforcement aren't enough to combat sexual violence and trauma. "Those of us who have friends and family who have been victims of sexual violence know all too well that legislation isn't enough," said Rye in press materials. "One in four women say they have been victims of sexual violence. Many abusers use physical and sexual abuse, threats, emotional insults, and economic control as a means to dominate their victims. We have yet, as a society, to come to terms with the dynamics of abuse, and to truly help victims everywhere. We need to begin taking a closer look and speak up for the children, women, and men [who] are silenced as victims."
Since sexual violence is not just a woman's concern or problem, The Center has partnered with A Call to Men to launch the Engaging Men Initiative. The aim of the partnership is to engage "men and masculine-of-center individuals in the work of ending gender-based violence." The Center and A Call to Men will implement an eight-step "plan to educate and equip Rockland County men/masculine people to promote healthy masculinity and take meaningful actions to prevent violence against girls, women, feminine-of-center individuals, and other oppressed groups."
The Zero F's Given #ZFGDay T-shirts and hoodies can be purchased here with prices starting at $24.99. In addition, direct tax-deductible donations to Zero F's Given can be made here.