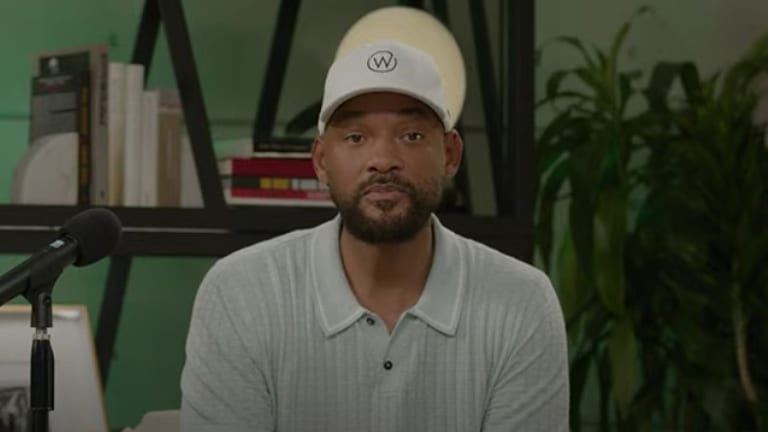 Will Smith Releases Apology Video for Slapping Chris Rock
Will Smith apologized for slapping Chris Rock, saying, "No part of me that thinks that is the optimal way to handle a feeling of disrespect or insult."
If you thought Will Smith would be "called to the Red Table" or would sit down for an interview with Oprah Winfrey after slapping Chris Rock during the 2022 Academy Awards, you were wrong. The Oscar winner, instead, took to YouTube to apologize to Rock, Tony Rock, the brothers' mother, fellow nominees, and his family. Smith also revealed whether his wife Jada Pinkett Smith prompted him to defend her during the ceremony.
Instead of offering an apology that was crafted and written by a team of publicity experts as most celebrities would, Smith, wearing a ball cap and polo shirt, sits down in front of a camera to answer questions about the scandal on social media. The 5-minute and 44-second video is titled "It's been a minute..." and begins with this caption across the screen: "It's been a minute... Over the last few months, I've been doing a lot of thinking and personal work... You asked a lot of fair questions that I wanted to take some time to answer."
The first question addresses why Smith didn't use the opportunity of his acceptance speech, for Best Actor for his starring role in King Richard, to apologize to Chris Rock immediately for slapping the comic for joking about Pinkett Smith's baldness. Smith not only offers an apology to Rock, but also to his brother Tony Rock and their mother Rosalie Rock, as reported by Mike Fleming Jr. for Deadline:
"I was fogged out by that point. It is all fuzzy. I've reached out to Chris and the message that came back is that, he's not ready to talk. When he is, he will reach out. I will say to you, Chris, I apologize to you. My behavior was unacceptable and I am here whenever you are ready to talk. I want to apologize to Chris's mother. I saw an interview [she] did, and that was one of the things I just didn't realize. I wasn't thinking, but how many people got hurt in that moment. I want to apologize to Chris's mother, I want to apologize to Chris's family, specifically Tony Rock. We had a great relationship. Tony Rock was my man. This is probably irreparable. I spent the last three months replaying and understanding the nuance and complexity of what happened in that moment. I'm not going to try to unpack all of that right now, but I can say to all of you, there is no part of me that thinks that was the right way to behave in that moment. No part of me that thinks that is the optimal way to handle a feeling of disrespect or insult."
Although he didn't apologize to Rock during his acceptance speech, Smith expressed regret for his actions on Instagram days after the March 27 live-telecast of the Oscars. He remained quiet about the incident until now.
Regarding whether Pinkett Smith encouraged him to defend her against Rock's joke, Smith said, "No. I made a choice on my own, from my own experience and my history with Chris. Jada had nothing to do with it. I'm sorry, babe, and I want to say sorry to my kids and my family for the heat that I brought on all of us."
Smith's behavior, which included yelling "Keep my wife's name out your f–king mouth" at Rock as he took his seat after the slap, overshadowed his fellow nominees' and Oscar winners' moment. Rock was presenting the Best Documentary award, which Questlove won for Summer of Soul, when Smith accosted him. Jessica Chastain's Best Actress win and CODA's Best Picture win went unnoticed following the "slap heard around the world." 
"To all my fellow nominees, this is a community. I won because you voted for me and it really breaks my heart to have stolen and tarnished your moment," Smith said in the video. "I can still see Questlove's eyes – it happened on Questlove's award – and I am sorry isn't really sufficient."
Smith, who produced and stars in Apple TV+'s Emancipation which will be released in December, concluded the video that was also shared on Instagram by explaining how disappointing people is his trauma and has a lasting effect on him:
"Two things. One, disappointing people is my central trauma. I hate when I let people down, so it hurts me psychologically and emotionally that I didn't live up to peoples' image and impression of me. The work I am trying to do is, I am deeply remorseful and I'm trying to be remorseful without being ashamed of myself. I'm human and I made a mistake and I'm trying not to think of myself as a piece of shit so I would say to those people, I know it was confusing, I know it was shocking, but I promise you I am deeply devoted and committed to putting light and love and joy into the world. If you hang on, I promise we will be able to be friends again."